Newspaper review: Little sympathy for Vicky Pryce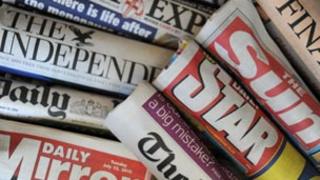 As Chris Huhne's ex-wife Vicky Pryce contemplates a jail sentence for perverting the course of justice, most believe she had it coming.
"Kamikaze mission accomplished" says the Daily Mirror - "her all-consuming need was to exact revenge on a husband who cheated on her... but she, too, now is ruined".
Ex-cabinet minister Huhne's act of betrayal, says the Times, was repaid with a spite that exacted a terrible toll on the family.
The Daily Telegraph says her determination to "nail" her former husband by revealing she had taken his speeding points a decade ago "created a whirlwind of toxic allegations that sucked in all close to them".
"The Pryce of revenge," says the paper, is a family torn apart, two careers ruined and a previously happy couple facing jail.
The Guardian believes the case has raised questions about what Deputy Prime Minister Nick Clegg knew before it was reported in the press.
Emails that emerged during the trial showed that Pryce told a journalist that she had revealed details of the scandal to Vince Cable and to Mr Clegg's wife before the story was published. Both have denied the claims.
The Sun is astonished that no-one can remember hearing details of the case.
"You'd think that an offence like perverting the course of justice might stick in a few minds", it says.
Flexible approach
There is criticism of David Cameron's speech, in which he insisted there was no alternative to the government's economic strategy.
Martin Wolf, of the Financial Times, urges the prime minister to take a more flexible approach.
How can a plan he promoted in June 2010 still be the right one when so much has changed, he argues.
The UK economy is far weaker, structurally, than many imagined six years ago.
"The idea that treatment is right irrespective of what happens to the patient falls into the realm of witch-doctoring, not science," he says.
The Daily Telegraph asks why the prime minister felt he needed to make the speech now, effectively pre-empting the Budget in two weeks' time.
Tax cuts
It was full of tough language, it says, "but we can infer that panic is setting in".
The paper calls for a range of tax cuts financed by taking money away from the NHS and foreign aid budgets and by reducing benefits for better-off pensioners.
The Daily Express is not impressed by Labour's calls for tighter controls on the payment of benefits to migrants - as well as enhanced checks on foreign student visas.
It says shadow home secretary Yvette Cooper was part of an administration that deliberately opened the floodgates and allowed immigrants access to a panoply of benefits.
"This disingenuous posturing," it says, shows why Labour should never again be trusted as a party of government.
Accolade hope
Finally, the Daily Mirror reports that an MP has launched his town's bid for UK City of Culture by describing the rivals as "absolute dumps".
David Amess is the Tory MP for Southend-on-Sea, which is hoping to receive the accolade in 2017.
The other candidates are Aberdeen, Chester, Dundee, East Kent, Hastings and Bexhill-on-Sea, Hull, Leicester, Plymouth, Swansea Bay and a joint bid from Portsmouth and Southampton.
"Some of them," added Mr Amess, "wouldn't know culture if it was put in front of them".