Nigeria hostage murder: Brendan Vaughan's family 'saddened'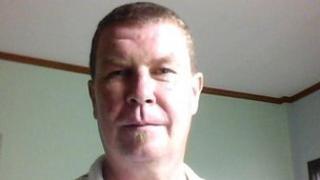 Relatives of a British construction worker thought to have been murdered by a Nigerian Islamist militant group have said they are "shocked and saddened".
Brendan Vaughan's family said he was a "lovable rogue" who "lived his life to the full and on his own terms".
Foreign Secretary William Hague said on Sunday that Mr Vaughan, 55, from Leeds, was "likely" to have been killed, along with six other foreigners.
The workers were captured in a raid on a construction site on 16 February.
Ansaru, a suspected off-shoot of the Boko Haram network, said it had carried out the attack in revenge for what it called atrocities by European nations against Islam.
An Italian, a Greek and four Lebanese workers were also seized in the raid on the Setraco construction site, in the northern state of Bauchi.
One security guard died during the assault.
In a statement, Mr Vaughan's relatives said: "The family of Brendan Vaughan, aged 55 from Rothwell, Leeds, are obviously shocked and saddened by recent events.
"Brendan, best described as a lovable rogue by everyone who knew him, lived his life to the full and on his own terms.
Grandfather-to-be
"He was a loved father, brother and fiance who was tragically killed on March 10th 2013."
The statement added that Mr Vaughan had been "deprived of meeting his first grandchild, a baby girl to be born in May.
"Brendan may be gone but will be never forgotten."
On Sunday, Mr Hague said Mr Vaughan was "likely to have been killed at the hands of his captors, along with six other foreign nationals.
"This is an unforgivable act of pure, cold-blooded murder, for which there can be no excuse or justification."
On Monday, the militant group purportedly posted a video online with the caption: "The killing of seven Christian hostages in Nigeria."
In it, a gunman with a rifle is seen standing in the sand next to several bodies, the Associated Press reports.
The video appears to match grainy images of bodies posted online by Ansaru on Saturday.
In an accompanying online statement, the militant group said it had killed the captives.