UK father and son found dead in Alps are named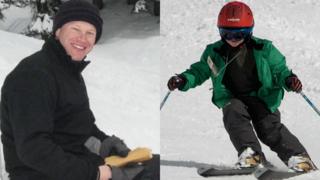 A British man and his 12-year-old son found dead in the French Alps after apparently falling while hiking near Mont Blanc have been named.
The family of Peter and Charlie Saunders paid tribute to them, saying they would be sorely missed.
The pair were in the Chamonix area for a weekend hiking, when it is understood Charlie plummeted several hundred metres down a cliff.
It appeared his 48-year-old father then phoned for help before he also fell.
A statement, issued by the Foreign Office on behalf of the Saunders family, said they had flown to the French Alps for a "short weekend of adventure". They were to have had a half-day walking followed by a full day skiing.
It continued: "Charlie was always full of life, had a really happy temperament and loved spending time with his father.
"Peter was fantastic at making things happen, resourceful, with a positive approach to life. They will both be sorely missed by friends and family alike."
The pair had taken a well-known mountain trail, which police say is dangerous during the winter.
Mountain rescue teams found both bodies on Sunday morning.
The family thanks the French rescue services "for all their efforts".
Popular summer hike
The pair had set out on a popular summer hike known as Le Couloir des Bossons near Mont Blanc - the Europe Union's highest peak.
Police in France described the trail as very steep, with rocky, slippery parts to it - and it is not recommended in winter.
Local journalists said Mr Saunders was thought to have made a call by mobile phone to the Mountain Police Squad at Annecy on Saturday afternoon, saying his son had fallen and he could no longer see him.
But he was cut off and rescue teams following up the call were unable to locate the pair.
Overnight, police were able to establish their identities and contacted the man's family in England via Interpol, it is understood.
It is also thought the father and son had sent photos of themselves on the hike to their families, and French police used a photo to identify where they must have been.
On Sunday, a helicopter search party resumed and found the two bodies - which were taken back to Chamonix.