Press regulation: Reaction to deal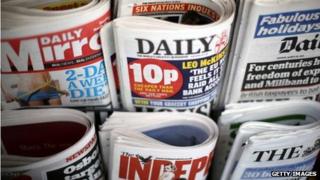 A deal has been struck between the three main political parties on measures to regulate the press in the wake of the phone-hacking scandal.
Under the deal, an independent regulator will be set up by royal charter.
Press campaigners and the industry itself are among those who have been reacting.
Brian Cathcart, director of press reform campaign group Hacked Off
"The royal charter that they have accepted will introduce a new system that will protect the freedom of the press and, at the same time, protect the public from the kinds of abuses that made the Leveson inquiry necessary.
"We believe a charter is second best but we believe that this charter - endorsed by the three leading parties today - can effectively deliver his proposals on self-regulation."
Boris Johnson, mayor of London and Daily Telegraph columnist
"The prime minister was absolutely right last week to fight against any kind of statutory control of the media.
"He has this morning assured me that this isn't statutory regulation, and that it in no way allows politicians the opportunity to interfere with a free press. I very much hope that is true.
"London has benefited hugely from a free press and it is our tradition of investigative journalism that keeps politics and business much cleaner than elsewhere in the world. Anything that threatens that freedom should be strongly resisted."
Trevor Kavanagh, associate editor of the Sun
"We don't want the freedom of the press to be handed to people who have arbitrary powers over which we have no control and which could, in the end, kill the flourishing - although declining - newspaper industry in this country."
Max Mosley, ex-motorsport boss who won a privacy case against the News of the World
"It doesn't really matter between the parties who won and who lost. What really matters is the public have won and the worst elements of the tabloid press have lost.
"Commercially, the pressure will be heavily on the newspapers to sign up to the regulator. In the end... the proprietor will look at his bottom line and say 'you better sign up'."
Anne Diamond, broadcaster and victim of press intrusion
"The smile on my face is gradually getting broader as I think what we've got now is a really workable solution.
"What we needed this time was a body that would have real teeth and that the press would be severely punished if they overstepped their own code of conduct.
"One can only hope that they [the editors] would buy into this, because there was never going to be any point in having a system that the press wouldn't buy in to."
Representatives of the press
In a joint statement, the Mail and Telegraph groups, Northern and Shell, News International, the Newspaper Society and the Professional Publishers Association highlighted that industry representatives had not been present for the final talks on Sunday night.
While the industry said it needed more time "to study" the proposals before it made a full response, its statement pointed out that early drafts of the royal charter contained "several deeply contentious issues which have not yet been resolved with the industry".
The president of the Newspaper Society and chief executive of Archant, Adrian Jeakings, went on to say that his call for safeguards to protect regional and local newspapers had been ignored.
"The royal charter proposals... - with huge financial penalties for newspapers which choose to be outside the system and an arbitration service which would open the floodgates to compensation claimants - would place a crippling burden on the UK's 1,100 local newspapers.
"Local newspapers remain fiercely opposed to any form of statutory involvement or underpinning in the regulation of the press.
"A free press cannot be free if it is dependent on and accountable to a regulatory body recognised by the state."
Paul Connew, former editor of the Sunday Mirror
"Today was billed as D-Day.
"It's another messy chapter in a battle or a war perhaps that's not over yet. I think it's far from certain.
"Quite sensibly the main groups want to look at this and study it and have their lawyers look at it but I think there's still a very real chance that some of them may well decide not to sign up.
"It's meant to be voluntary so if that happens, what does parliament do then?"
Siobhain McDonagh, Labour MP, whose stolen mobile phone was accessed by the Sun
"I want to see a system where if somebody is badly written about or has untrue things said about them, they can have an easy, cheap system to make their complaint and for that complaint to be heard..
"If you get wrong things written about you on the front page of a newspaper, you should get the apology on the front page.
"I want those simple things and I hope that we are edging towards that."
Chris Blackhurst, editor of the Independent
"I don't think it's too bad. It could've been a lot worse, it could've been better.
"I think we have to recognise the mess the industry got into. The industry did some bad things and our existing regulator just wasn't up to the task."
Kirsty Hughes, chief executive of free speech campaigners Index on Censorship
"All the parties are trying to not be labelled as parties that are ending press freedom and are introducing a press law.
"But the fact that this has been both shambolic and very secretive - and we've got a compromise that you might expect to get late-night out of a European summit - doesn't hide the fact that here we have MPs voting on the press, and that crosses the line on freedom of expression."
Dunja Mijatovic, the Organisation for Security and Co-operation in Europe
"A government-established regulatory body, regardless of how independent it is intended to be, could pose a threat to media freedom.
"This should not be used as an excuse to rein in all print media."