Horsemeat: FSA reveals new find in Lancashire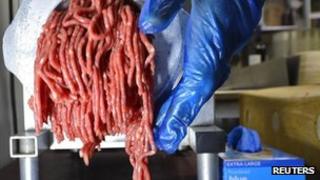 One hundred kilograms of horsemeat imported from Hungary and labelled as beef has been discovered in Lancashire, the Food Standards Agency has said.
Some 40kg has already been sold to the public through Hungarian Food Ltd's market stall in Preston and the Taste of Hungary shop in Liverpool.
The meat was sold in 1kg bags labelled "diced beef".
The Food Standards Agency (FSA) has notified the European Commission and the Hungarian authorities.
The remaining unsold meat has been withdrawn from sale.
Lancashire County Council is investigating and the meat will be tested for the veterinary drug "bute".
'Tasted like beef'
The meat was imported by Hungarian Food Ltd of Preston.
Attila Fabian, manager of the Taste of Hungary shop, said he had eaten some of the horsemeat, thinking it was beef.
He said: "It tasted like beef, it looked like beef. I was shocked today when environmental health told what happened exactly."
He said he had bought 20 1kg bags of what he thought was diced beef from Hungarian Food Ltd in May last year, rather than import it directly.
However, it did not sell as well as expected and he took four or five bags of the meat home for his family.
Earlier this month, the FSA said preliminary tests had found six new beef products that may contain horse DNA.
The checks were conducted by local councils following the earlier recalls of supermarket and caterer meat products containing horsemeat.
'Worrying' development
They also found three beef products with pig DNA above a 1% threshold.
The FSA has said members of the public would be asked if they found low levels - or "trace contamination" - of horse and other species in beef products acceptable.
It comes after more than 6,000 tests for horse DNA were carried out in six weeks.
Shadow environment secretary Mary Creagh described the FSA find as "worrying" and said it meant "the horsemeat scandal has spread from supermarkets and schools through to market stalls".