Wintry weather: Your stories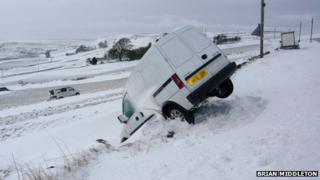 Britons have told of their struggles to cope in the unseasonably cold weather and snow storms that have hit many parts of the UK since Friday.
Here, we return to some of the people who spoke to the BBC about their experiences on Saturday and Sunday.
Kenneth Young, Isle of Arran
The power has been out here since Friday and we've only just got it back in the last 30 minutes. We're still not on the mains and at the mercy of generators.
My heart goes out to the engineers - they've been working flat out - and they've even brought in engineers from outside the area.
They've brought in generator after generator by ferry and shipped them over to various parts of the island.
I got here first thing on Saturday. I wanted to stay with my 86-year-old gran while the power was out.
By then they had managed to set up an emergency centre in the village after hooking up a generator to the local substation. That allowed them to open a couple of shops for emergency supplies and a hotel, which has been operating as a soup kitchen and emergency drop-in centre.
Since Saturday I've hardly stopped - sourcing gas, or food or candles. It's been quite a journey.
The local population - in conjunction with the emergency services - have really pulled out all the stops. It reinforces the sense that a small community can be very strong when times are hard.
We've had familiar strangers turn up with mugs of tea and hot food.
Clare Owen, Cilcain, Flintshire
We were without power for 16 hours over the weekend, but it is back on now.
That was a problem as normally we would rely on a lift and hoist to move my disabled son around.
It kept on snowing until Sunday. We spent hours yesterday afternoon digging the snow out of the drive. My husband is away in Portugal so it was just me and the children out with a shovel. The whole village was out digging out I think.
We're hoping to go out later - we need to go shopping to get some food. People in the village have been very kind by sharing basics. I traded some logs for some milk!
People I've spoken to in the village say they've not seen this amount of snow for 20 years.
Elizabeth Guy, Wensleydale, North Yorkshire
I work as an estate agent and my partner is a farmer
Conditions have continued to be challenging, but the weather has steadily improved.
Yesterday it got warmer and the top layer of snow stopped drifting over the roads - and that's a massive help. The roads are all clear up here now.
It's the peak time of the lambing season and because of the weather, we've had to keep the lambs inside much longer than we would normally.
Neighbouring farms have been having the same issue - one had 90 lambs in the last three days.
The lambs are outside now and as long as they've got a good mother, things are not too bad for them. They hide behind their mothers and keep warm.
The main thing is to stop them getting buried in the snow.
Brian Middleton, Mount Tabor, West Yorkshire
We've been snowed in for three days now.
The road outside our home has been half cleared about half a mile further than our house. I saw a lot of people driving up there and then reversing back down again.
Our cars are completely covered in snow.
There are snow drifts of 8-10ft (2.4-3m). The wind is still blowing and the snow is packed very hard so it's difficult to shovel it.
There are blustery gale force winds - we're up on the hills and the wind comes straight up the hillside.
We can walk out for some way and there is a small shop about a mile away that we use for basics.
I work from home, but my wife doesn't and she was meant to be in Herefordshire today.