Lloyds Bank apologises for family's lost jewellery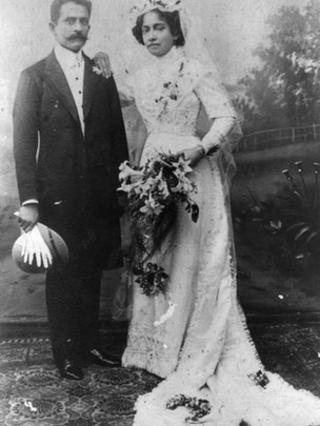 Lloyds Bank has apologised for losing a deposit box containing three generations of family heirlooms.
The jewellery, handed down to Gillian Robinson of Dorset, was stowed for safekeeping in her local Christchurch branch.
The art teacher told BBC Radio 4's You & Yours that the items had been valued at around £10,000.
Lloyds said it was investigating and had offered to reimburse the value of the jewellery, plus £500 for distress.
The pieces belonged to Mrs Robinson's great-grandfather who lived in Goa, and her grandmother Claire who married John Quiterio. Mr Quiterio - who was appointed an OBE for engineering work in India - had pieces of jewellery he had been given by George V.
Priceless
Mrs Robinson said her parents were not wealthy, but gifts of gold were traditionally given in India for occasions such as weddings and anniversaries, and when her parents came to the UK they stored those items with Lloyds.
She said: "They are priceless to me. Inside [the deposit box] was a necklace I wore for my wedding that had been handed down by my great-grandmother. My grandfather was an OBE and he was awarded a necklace for his wife.
"I've only seen the jewellery a dozen times in my life and my mother told me stories about them."
She was first made aware of a problem at the end of 2011 when Lloyds phoned to say the family's safety deposit box could not be found.
Her husband David said his wife initially panicked and offered to go to the branch immediately, but was told they would investigate first.
After taking legal advice the couple sketched the items and asked a jeweller to give them a valuation for the 24-carat pieces.
Mr Robinson decided to let the Lloyds investigation take its course, adding that they constantly chased the bank for updates. But eventually, they opted to take their complaint further and make it public.
He said: "They didn't do much so we contacted the Financial Ombudsman. The money isn't important - it's the intrinsic value of the jewellery and we want the box back."
Investigations
Mrs Robinson added: "They said they had searched the bank high and low but couldn't find it but I know it was put in the bank - where could it go?"
Lloyds said in a statement: "We are very sorry for the distress that this has caused Mrs Robinson and her family. Her case should have been passed to a specialist team to ensure it was properly assessed.
"However it appears that our usual procedures were not followed in this case and we are looking into why this happened.
"We will be contacting Mrs Robinson to get a better understanding of the value of the items stored in her safety deposit box. We will then make sure that she is properly compensated, not only for any financial loss that she has suffered, but also for the distress caused."
You and Yours is broadcast on Radio 4 at 12.00 GMT on weekdays. You can hear this episode for the next seven days via the BBC iPlayer