Newspaper review: Press digests new welfare reforms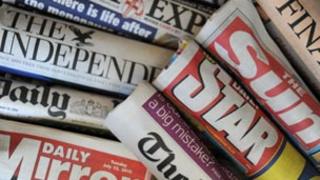 The introduction of new welfare reforms and a restructuring of the NHS are digested by the day's newspapers.
"The day Britain changed" is the main headline in the Guardian, which lists - on its front page - many of the reforms taking effect this week, including cuts to benefits and the reorganisation of the NHS in England.
The paper believes the measures will be "pivotal" for the coalition and "the reference point from which everything else will be measured".
Writing in the Daily Telegraph, the Chancellor George Osborne and the Work and Pensions Secretary Iain Duncan Smith say they are "making welfare fairer, helping to create jobs, and making sure you can keep more of what you earn".
Investment returned
The Daily Mirror accuses the coalition of "dismantling the welfare state" and "removing the safety net which makes Britain a civilised society".
The Sun begs to differ, fearing that a "disastrous fate awaits the beleaguered British economy".
The Daily Mail reports that police officers are "pocketing" more than £20m a year in personal injury claims.
It highlights the case of an officer who is suing a man who reported a burglary, because she tripped over a kerbstone at his business.
A rector who handed out £10 notes to his congregation, in the hope they would invest the money to help raise funds to repair his church, has had his prayers answered.
The Reverend Richard Steel, from Huddersfield, in West Yorkshire, distributed £550 last November, taking inspiration from the parable of the talents, in which Jesus tells the story of a man who entrusts money to his servants.
The Times and the Telegraph report that his flock have now paid him back more than £9,000. An 11-year-old girl raised more than £500, after selling homemade cards for 75p each.
April antics
Many of the papers have photographs of the disgraced former Liberal Democrat MP, Chris Huhne, walking in the grounds of Leyhill Prison in Gloucestershire.
They show him wearing a grey prison-issue coat with orange shoulder pads, as he - in the words of the Sun - "attempted to blend in".
The Mail attributes his apparently cheerful expression to his transfer to an open prison once described as "the Savoy of the Slammers", because of its regime.
Finally, a number of stories in the day's papers should be read with at least half an eye on the date.
The Sun says Mick Jagger and Ronnie Wood went camping over the weekend, to prepare themselves for their visit to the Glastonbury Festival this summer.
And the Guardian would have us believe that it is launching "web-connected augmented reality spectacles", which will beam its journalism directly into the wearer's visual field.