Haroon Aswat US extradition rejected by court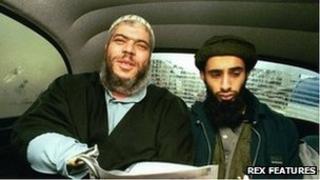 The European Court of Human Rights has ruled a terrorism suspect should not be extradited from the UK to the US due to his mental health problems.
Haroon Aswat allegedly tried to establish a training camp in Oregon with the radical cleric Abu Hamza, who was extradited to the US last year.
But Mr Aswat said conditions in a 'supermax' jail could exacerbate his paranoid schizophrenia.
The Home Office has expressed disappointment at the court ruling.
Tuesday's judgement does not become final for three months to allow time for people to appeal against it.
'Significant deterioration'
In 2008, Mr Aswat, a British citizen, was transferred from prison to Broadmoor high security psychiatric hospital, where he is currently on anti-psychotic medication.
He was arrested in the UK in 2005 following a request for his arrest and extradition from US authorities, after allegedly plotting to set up a terror training camp in Bly, Oregon with Abu Hamza.
In October 2012, fellow terror suspects Abu Hamza, Babar Ahmad, Syed Talha Ahsan, Adel Abdul Bary and Khaled al-Fawwaz were extradited to the US.
But on Tuesday the court decided unanimously that extradition - possibly to the ADX 'supermax' prison in Florence, Colorado - would breach Mr Aswat's human rights, specifically Article 3 of the European Convention on Human Rights which prohibits inhuman or degrading treatment.
It said: "In light of the medical evidence before it, the Court found that there was a real risk that Mr Aswat's extradition to the USA, a country to which he has no ties, and to a different potentially more hostile environment, would result in a significant deterioration in his mental and physical health."
The judges argued that Mr Aswat's case to avoid extradition was different from Baba Ahmad's - which was thrown out last year - due to the severity of Mr Aswat's mental health problems.
They also said that while Mr Aswat, if convicted, would have access to mental health services regardless of which prison he was in, he would be facing "an uncertain future in an as yet undetermined institution, and possibly be subjected to the highly restrictive regime in ADX Florence" which would violate Article 3 of the Convention.
A Home Office spokesman said of the ruling that it would "consider as a matter of urgency all the legal options which are available to us.
"This includes whether we request a referral of the case to the Court's Grand Chamber".