Four Luton men posed 'no imminent terror threat'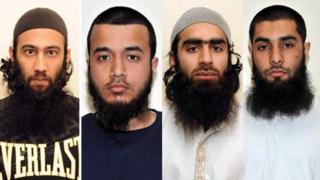 Four men from Luton who have pleaded guilty to terror offences did not pose an imminent threat to people in the UK, their defence team has told a court.
Zahid Iqbal, 31, Mohammed Sharfaraz Ahmed, 25, Umar Arshad, 24, and Syed Farhan Hussain, 22, admitted conduct in preparation for acts of terrorism.
But Henry Blaxland QC, for Ahmed, said it was an "overstatement" to say there had been any planning for an attack.
Sentencing at Woolwich Crown Court was adjourned until Thursday.
Prosecutors said that between them the men had arranged terror training in Pakistan, talked about procuring weapons and discussed blowing up a Territorial Army base in Luton.
The men also downloaded extremist literature such as articles on how to make a bomb.
Mr Blaxland said of a recorded discussion between two of the men about attaching a bomb to a remote-controlled toy car and driving it into a Territorial Army base: "It went nowhere. It was an idea that was floated and very briefly discussed."
However, he accepted that his client had travelled to Pakistan in 2011 with the intention of receiving terror training.
'Insidious effect'
James Wood QC, representing the ringleader Iqbal, said the men had discussed the contents of various extremist literature on the internet.
He said that one magazine, Inspire, had been downloaded more than half a million times worldwide and it was unsurprising that there had been discussion about it.
"This is the insidious effect of disturbing and easy access on the internet to Inspire magazine," he said. "The magazine has given rise to some discussion, consideration and, so far as this case is concerned, some minor action.
"The defendant's terrorist intent was generalised and ill-formed... discussion was embryonic, a very long way from fruition and unlikely to be realised."
Rajiv Menon QC, for Hussain, said: "There was eight months worth of covert surveillance [by the police and security services]… but none of them were arrested when their homes were searched.
"They enjoyed their liberty for a further seven months… this is compelling evidence that the authorities did not believe they were a significant threat."
Prosecutor Max Hill QC told the court the men had been the subjects of an intelligence-led joint investigation by counter-terrorism police and MI5 into the movement of individuals from the UK to Pakistan "for extremist purposes linked to al-Qaeda".
The four men were arrested following a series of raids at their homes in Luton in April 2012.