Salma Kabal cleared of withholding information about terror plot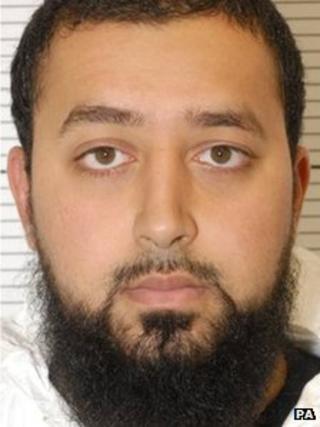 The estranged wife of a man convicted of plotting a terror attack has been found not guilty of withholding information from the police.
Salma Kabal, 23, was cleared at Woolwich Crown Court.
Her husband Ashik Ali, 27, from Birmingham, was one of three men convicted in February of plotting a bombing campaign in the UK.
Ms Kabal said she thought he was using his commitment to jihad as an excuse not to get back together.
The court heard that along with two other ringleaders, Irfan Naseer and Irfan Khalid, Ali talked about using rucksack bombs and timed devices to stage attacks which they hoped would surpass the four suicide bombings of 7 July 2005, when 52 people died in London.
The case against Ms Kabal was based on a confrontational conversation with her husband, in which she challenged him about the future of their relationship. Counter-terrorism investigators had secretly recorded the conversation as part of their case against Ali.
In the recording, Ali warned his wife, from whom he had separated, that her family's home could be raided by police as a result of his activities.
He advised her to have nothing to do with him. Prosecutors said that although Ali had not told Ms Kabal about his plan to attack the UK, she must have known he would be engaging in illegal activity abroad.
"The truth is we can't be together at the end of the day, I don't see no other way around it," Ali was recorded as saying.
"I'm doing things with my life as I imagined, but it might put, your, well it's gonna put your life in danger and I don't want [to] talk about it.
"You're not going to understand, Salma. You're only going to understand when it happens to you... one day when your house gets raided init, and you get taken in because of me."
Ms Kabal told the court that she thought her husband had found another woman and he was using jihad as an excuse to avoid telling the truth.
She told the jury: "I didn't have an understanding of what he was talking about, and I couldn't care less. All I wanted to do was get my marriage back."
The court also heard that said Ms Kabal and Ali had joked about the film Four Lions, a black comedy which depicts a group of hapless British terrorists plotting a bombing campaign.
Ali said: "Oh, you think this is a flipping Four Lions. We're one man short, there's three of us. We ain't Four Lions yet."
Ms Kabal replied: "I'll be your fourth one... Lioness."
Assistant Chief Constable Marcus Beale, of West Midlands Police, defended the decision to charge Ms Kabal.
"We had evidence that needed to be brought before a court for a jury to decide whether or not Ms Kabal should have informed the police," he said. "They have acquitted Ms Kabal and we fully respect their decision."