Queen to celebrate 87th birthday with family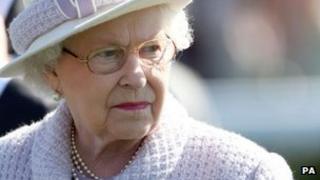 The Queen is expected to celebrate her 87th birthday with her family at Windsor Castle later, following a visit to Newbury Racecourse on Saturday.
Traditional gun salutes will be fired in London on Monday - because her birthday falls on a Sunday this year.
Each year, she celebrates her actual birthday on 21 April and her official birthday on a Saturday in June.
Meanwhile, a royal watcher has estimated she has carried out more than 30,000 public engagements as Queen.
Family time
Tim O'Donovan, an 81-year-old retired insurance broker from Windsor, used the court circular - introduced by King George III and published daily in the Times, the Daily Telegraph and the Scotsman - to come to his estimate.
Mr O'Donovan calculated that, between 1984 and 2012, the Queen carried out 14,429 - or an average of 498 - engagements each year.
Since her accession in 1952, he estimates she has attended more than 30,300 engagements.
Buckingham Palace said the Queen was taking her birthday weekend off to spend it with her family as well as to enjoy her favourite pastime - horseracing.
At 12:00 BST on Monday, a 41-gun salute will be fired from Hyde Park, along with a 21-gun salute in Windsor Great Park and a 62-gun salute at the Tower of London.
The Queen's official birthday is marked with the Trooping the Colour parade, also known as The Queen's Birthday Parade, which is due to take place on 15 June this year.