London Marathon: Organisers pleased with preparations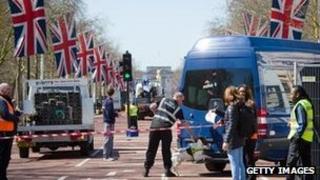 Organisers of the London Marathon say preparations for the race have gone well despite security being increased.
The build-up to the event has been subject to more attention than usual in the wake of bomb attacks at the Boston Marathon on Monday.
The Metropolitan Police has increased officer numbers by 40% on last year to "reassure" runners and spectators.
Meanwhile, the London Marathon charity is to donate £3.5m to more than 90 sporting projects.
'Brilliant day'
Messages of reassurance about security had been "well received", the marathon's chief executive said.
Nick Bitel said he was expecting Sunday's event to be a "brilliant day" with a "fantastic looking line-up of stars running the race".
More than 35,000 runners are due to take part in the race, which starts in Blackheath in south-east London, and finishes near Buckingham Palace.
Thousands of spectators line the route every year, which passes some of the capital's most recognisable landmarks including Tower Bridge, Canary Wharf and Big Ben.
Several hundred more police officers and more search dogs will be deployed on the streets in an effort to make people feel safe, the Met Police said on Friday.
That is despite the force seeing "no link whatsoever" between what happened in the US and the London event.
Fears had been raised following the twin bomb attacks in Boston, which killed three and injured 180 people.
Neither of the suspects in the Boston bombing is at large, with one killed in a police shootout on Thursday and the other - 19-year-old Dzhokhar Tsarnaev - arrested on Friday.
Race donations
As a mark of respect for the Boston victims, a 30-second silence will be held before the start of the London Marathon men's elite race and mass start. Runners are also being encouraged to wear black ribbons.
Mr Bitel said the race organisers were happy with how the build-up to the race had gone.
"In terms of our preparations, it's all gone well, obviously there were some additional security issues following Boston, but that seems to be bedding down and the message of reassurance to runners has been very well received," he said.
The London Marathon Charitable Trust will make donations to schemes across 24 local authority areas, taken from a surplus from last year's event.
The venues to benefit include Ramgarhia sports club in Ealing, Copthall playing fields in Barnet, Holborn community centre in Camden and Stoke Newington School in Hackney.
Trust chairman John Bryant said: "One of the primary objectives of the race when it was founded was to help provide facilities for recreation and leisure, and it is heartening to know that the event's success means we have been able to award nearly £50m in grants in 32 years."
Virgin London Marathon has pledged to donate £2 for every finisher in Sunday's event to The One Fund Boston set up to raise money for victims of the explosions. The race organisers expect the total donation to be at least £70,000.
Ahead of the race, Britain's double Olympic gold medal winner, Mo Farah, said he was "hurt" by accusations that he was appearing only for the money.
Reports suggest that Mr Farah will receive about £450,000 to run just half the race.
And research published in the British Medical Journal has warned marathon runners that using painkillers before a race can increase the risk of "adverse effects" including pain, muscle cramps and intestinal cramps.