UK aid workers send supplies for China quake victims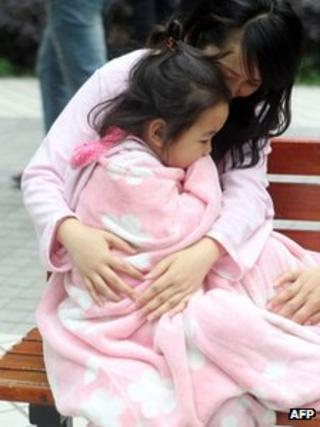 British aid workers are sending life-saving supplies to those affected by the earthquake that has hit south west China, killing more than 150 people.
World Vision and the British Red Cross are distributing hygiene packs and clothing to families left homeless.
The 6.6-magnitude tremor left villages close to the epicentre in ruins.
Foreign Secretary William Hague has offered his "deepest condolences" to all those Chinese citizens affected by the quake.
He added: "I am saddened to hear of the tragic loss of life and destruction caused by today's earthquake in Sichuan Province in China.
"Today's events will no doubt bring back terrible memories of the catastrophic earthquake in the same province in 2008.
"My thoughts are also with the Chinese authorities and the emergency services as they continue their rescue efforts. We are in contact with local authorities through our Consulate-General in Chongqing and will continue to follow the situation closely."
A British Red Cross spokesman said the charity was mobilising 5,000 kits of household items, 5,000 quilts, 5,000 warm jackets and 1,200 tents for the earthquake survivors.
International development organisation Plan International said it was sending supplies including more than 6,000 hygiene packs and 1,500 items of clothing.
Tents to provide temporary shelter are also being sent as part of the relief effort to help the thousands of people who have been injured.
'Urgent priority'
The earthquake struck the steep hills of Lushan county at 08:02 local time (00:02 GMT), triggering landslides and leaving thousands of homes destroyed.
More than 90,000 people were killed when a 7.9 magnitude earthquake struck the region in May 2008. World Vision said it then helped an estimated 2.2 million people rebuild their lives.
Plan China country director Mark Leighton said: "Meeting the needs of children is an urgent priority of our emergency response.
"There will be affected children in outlying and difficult to reach rural areas. Our emergency response team are heading to the worst-affected zones."
Its head of disaster response and preparedness, Unni Krishnan, said: "Repeated earthquakes hit affected people's mind hard and children, particularly, are most vulnerable."