Newspaper review: London Marathon tribute to Boston praised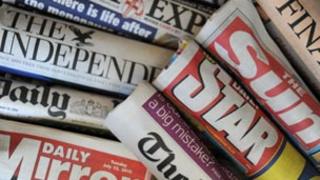 Images of London Marathon runners - heads bowed in silent tribute to victims of the Boston bombing - feature on the front of several newspapers.
"Brits give two fingers to the terrorists" is the Daily Star's headline while the Independent praises the "marathon defiance" of the competitors.
The Guardian believes London reclaimed the "marathon spirit".
An editorial in the Sun hails the race as a triumph "because it showed the terrorists that they won't win".
The Daily Mail says the teenage suspect in the Boston bombing, Dzhokhar Tsarnaev, may take his secrets to the grave amid reports that he may never talk again after shooting himself in the throat as police closed in on him.
The Times focuses on the CIA officers waiting to interrogate him.
It says they are part of the team that questioned the most high-profile detainees at Guantanamo Bay.
'Bite disgrace'
Liverpool footballer Luis Suarez makes headlines on the front and back pages after biting the arm of Chelsea's Branislav Ivanovic during Sunday's match at Anfield.
"Gnash of the day" is how the Sun describes the incident.
The Daily Mirror calls Suarez the "Kop cannibal", while the Star talks of his "bite disgrace".
The Daily Express says he has "bitten off more than he can chew" and that his Liverpool career is "in the balance".
'Non-existent recovery'
The Daily Telegraph says Chancellor George Osborne is facing "a crunch week" when it will be revealed whether or not the UK has avoided a triple-dip recession.
The Mail agrees saying pressure is growing on the chancellor after rating agency Fitch said the economic recovery was "almost non-existent".
The Financial Times, meanwhile, claims banks have put a damper on Mr Osborne's hopes that an expansion of the Funding for Lending Scheme will spark a rush of credit to small and medium-sized companies.
But the Times and the Telegraph both urge the chancellor to "stick to his guns" and not to veer from his path of deficit reduction.
Poverty warning
The coalition government is being told by its own advisers on child poverty that it doesn't have "a cat in hell's chance" of hitting its target for eradicating the problem by 2020, according to the Independent,
The warning comes in an interview by the paper with chairman of the social mobility and child poverty commission, former Labour health secretary Alan Milburn, and his deputy, former Tory education secretary Lady Shephard.
They say the number of children growing up in poor families could rocket to more than three million by the end of the decade.
Finally, forget marrying for money, divorce is what really pays dividends, according to the Times.
It says the "richest divorcee" in the Sunday Times rich list - published on Sunday - is Slavica Ecclestone whose settlement after 23 years of marriage to Formula 1 boss One boss Bernie Ecclestone is put at £740m.