Leveson defends inquiry over barristers allegations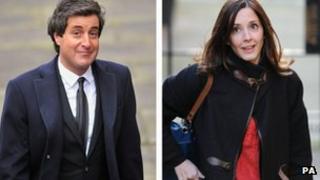 Lord Justice Leveson has dismissed suggestions an alleged relationship between two barristers involved in his inquiry had damaged its integrity.
Press reports have questioned whether the alleged relationship between Carine Patry Hoskins, its junior counsel, and David Sherborne, who acted for the victims, was appropriate.
Ms Patry Hoskins had no input on proposals for press regulation, the judge said in a letter to an MP.
The report was published in November.
Conservative MP Robert Wilson had urged the judge to investigate reports of a relationship between the two barristers.
He also asked the Bar Standards Board, which regulates barristers in England and Wales, to consider whether there may have been a breach of its code of conduct.
'No input'
In a letter to Mr Wilson, Lord Justice Leveson said that "as for the integrity and impartiality of the inquiry, I know exactly what work I asked Ms Patry Hoskins to do after August 3 (by which time the hearings had concluded)".
He said that after the hearings concluded, Ms Patry Hoskins had "no input into any conclusion as to the past treatment of those affected by press abuses... or any aspect of the proposals made for future press regulation".
Instead he asked her to collate facts relating to the historical relationship between the press and politicians, as well as "some proof reading".
He said there was "simply no room for a 'breach of confidence or any other conspiracy' as a result of personal relations between her and Mr Sherborne".
The judge said he understood the Bar Standards Board was aware of press reports about the relationship.
It was a matter for them to decide what if any action to take, he said.
The Leveson Inquiry into the culture, practice and ethics of the press published its report on 29 November.
It concluded a tougher form of self-regulation backed by legislation should be introduced to uphold press standards.