Broadland: Welcome to the UK's most peaceful place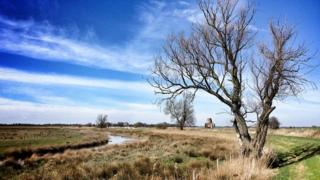 The Norfolk district of Broadland has been named the most "peaceful" area of the UK by a study looking at violent crime statistics and socio-economic factors. BBC News takes a trip to find out what makes life there so tranquil.
Boats bob gently on the water as the sun glints off the River Bure.
Dog walkers stroll past on their way to pick up a paper from the newsagent.
Ignore the constant traffic on the A1151 road, and the occasional honk from a goose, and all in Wroxham is peaceful.
The village lies in Broadland, named as the most peaceful place in the country by the UK Peace Index, which looked at factors including rates of murder and violent crime.
The district, which has a population of about 125,000, had only eight violent crimes reported in 2012. Its average overall crime rate for the past decade was 323 per 100,000, about a third of the national average.
A largely rural area to the north and east of Norwich, Broadland includes picturesque villages, handsome market towns and some of the city's suburbs.
'Why I'm here'
It also takes in large parts of the Broads, the network of inland waterways that are one of the country's most popular holiday destinations.
Yvonne Evans, 50, is from Grimsby but spends a lot of time in the area on her boat.
"I'm not surprised it's peaceful - that's why I'm here," she says.
"It's laid-back. Everyone speaks to you; everyone's happy. I would like to move here permanently.
"If you want the opposite side, go to Grimsby."
Retired fruit-grower John Place, 83, agrees. "It's very peaceful. That is the attraction," he says.
"It is a holiday area, but one that the lager-drinking people don't find so exciting. They would rather go to the south of France or Spain," he says.
"If we had attracted all the lager louts, we would have brawls at night.
"People are coming to the area for a quiet holiday. The local people are watching out for each other.
"There are problems. People can lose outboard motors occasionally. There is some local theft but I think the police are much quicker on the uptake now."
'Bowls and bingo'
Sonya Dickinson is clerk to Lingwood and Burlingham Parish Council, two Broadland villages east of Norwich.
"I love Lingwood," she says.
"It's a nice place because people say hello in the street and it's friendly."
She lists the village's pub, Tiny Tots and Mucky Ducks groups for children, as among its attractions, along with bowls, bingo and table tennis.
"There is hardly anything ever on the police reports. It's brilliant - I feel safe," she says.
Johnny Payne, a butcher in the Broadland market town of Aylsham, says: "It's a lovely little town: lots of friendly people; friendly faces.
"I think it's the friendliness of everybody that makes it so peaceful because you don't get a lot of people falling out with each other.
"You don't like to upset people because it's such a close-knit place."
University research
Simon Woodbridge, a Conservative member and former leader of Broadland District Council, said a lot of hard work had gone into making Broadland safe and peaceful.
He said the council started to take a deeper look at crime and anti-social behaviour following a national report in 2003, and commissioned the University of East Anglia to conduct research.
"They said if you really want to make sure you have got the most peaceful, crime-free area you can possibly achieve, head into your primary schools and high schools and look towards delivering early intervention services to children who are suffering from bereavement, bullying, domestic violence and family breakdown.
"It follows that if you give the pastoral care to youngsters when they are feeling emotionally distressed, that prevents them getting angry further down the line in their teenage years and will give you a significant reduction in crime and anti-social behaviour,"
He said social services, charities and the police had used this approach in the district to good effect.
Keith Simpson, Conservative MP for Broadland, said if the statistics in the UK Peace Index report were correct, it was good news for everybody living in the area.
"If we really are starred that high, this is going to encourage people to want to come and live in Broadland, and to invest in Broadland," he said.
"You'll notice the slight caveat in what I said because those are statistics and I suspect there will be many people within Broadland who will say, 'Wait a minute. I have seen crime - I have been burgled and there has been anti-social behaviour'.
"But I nevertheless think that this is, overall, good news.
"It says a lot for the work being done by police and people in social services and, I suspect as well the community spirit in many of the villages and small towns that make up a large part of my constituency."