Sun royal editor Duncan Larcombe among Elveden charged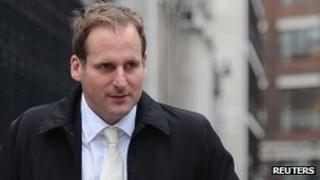 The Sun's royal editor has been charged with conspiracy to commit misconduct in public office over allegations he paid for stories about the Royal Family and Sandhurst Military Academy.
Duncan Larcombe was charged along with John Hardy, a colour sergeant at the academy, and his wife Claire Hardy.
An ex-pharmacy assistant at Sandhurst Medical Centre, Tracy Bell, was charged with misconduct in public office.
They will appear before Westminster Magistrates' Court on 8 May.
'Royal Family matters'
Mr Larcombe, Mr Hardy and his wife Claire were charged with conspiracy to commit misconduct in a public office between February 2006 and October 2008.
It is alleged that between those dates 34 payments were made either to Mr Hardy or his wife totalling over £23,000 for stories relating mainly to the Royal Family or "matters at Sandhurst", the CPS said.
Mr Harding had served at the Royal Military Academy where British army officers are trained.
It is alleged Tracy Bell, who was employed by the Ministry of Defence as a pharmacy assistant at Sandhurst Medical Centre, accepted payments totalling £1,250 between October 2005 and July 2006 for five articles published in The Sun about Sandhurst, the CPS also announced.
It added there was insufficient evidence to charge a second member of the public with any criminal offence.
The charges are part of Operation Elveden which is investigating alleged corrupt payments to public officials.
News International's chief executive Mike Darcey wrote in a message to staff at The Sun that the company would provide Mr Larcombe and his family with support during the legal process.
"We will not pre-judge the outcome," Mr Darcey wrote.
"I appreciate this is a very troubling time for all of us that work with Duncan."
The charges come after a former police officer was arrested as part of the investigation into alleged illegal payments by journalists to public officials.
The 41-year-old man, who used to be in the Surrey Police force, was arrested at his home in Sussex at 06:00 BST as part of Operation Elveden.
He was interviewed at a Sussex police station on suspicion of misconduct in public office and later bailed to a date in July.
He becomes the 62nd person to be arrested during the investigation.
Operation Elveden is running alongside Operation Weeting, the investigation into allegations of phone hacking, and Operation Tuleta, which is looking at computer hacking and other privacy breaches.