Keir Starmer stepping down from DPP role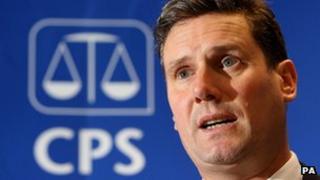 Director of public prosecutions Keir Starmer is to step down from the role at the end of his five-year term, the Crown Prosecution Service has announced.
Mr Starmer will finish in October, having been in the job since November 2008.
He has been a lawyer for 20 years and became a Queen's Counsel in 2002.
As DPP he is responsible for prosecutions, legal issues and criminal justice policy.
Mr Starmer said it had been "a huge privilege" to have led the prosecution service.
'Humanity' praised
"I have enjoyed my time very much and I look forward to continuing to work with my colleagues on the important work of the CPS until my term of office ends."
He is an expert in human rights law, and from 2003 to 2008 was the human rights adviser to the Northern Ireland Policing Board.
Attorney General Dominic Grieve praised Mr Starmer for bringing "humanity" to his role.
"Not just a formidable lawyer, he has brought sound instinct and humanity to his role, noticeably in the guidelines he has published," he said.