Newspaper review: Press looks to local elections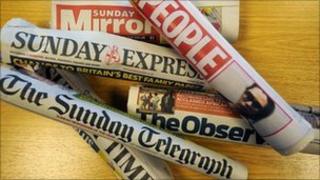 Issues surrounding the forthcoming local elections in England (and one Welsh council) are debated in this weekend's Sunday press.
The Observer's lead is that a series of leaked emails between key figures in UKIP reveals growing chaos at the heart of the party as it struggles to fill a policy vacuum just days before the local elections.
In one email, the paper says, the UKIP leader, Nigel Farage, is told that senior members must "get off their hobby-horses" if the party is to develop policies.
But the commentator, James Forsyth, writes in the Mail on Sunday that all three main parties could do badly, because the poll looks like being the latest act in UKIP's dramatic rise.
Power controls
The Telegraph says there is mounting political protest after an Iraqi-born man convicted of drug dealing won an appeal against moves by Home Secretary Theresa May to deport him.
The paper's main story reports that he convinced a judge he had a "family life" because he had a "genuine" relationship with a British woman - despite having no contact with his two children by different women.
According to the Mail's main story, electrical appliances in homes will automatically be switched off without the owner's consent under a "Big Brother" regime to reduce the strain on power stations.
It says the National Grid is demanding that all new appliances, such as fridges, freezers, ovens and washing machines, be fitted with sensors that could shut them down when the UK's generators struggle to meet demand for electricity.
For its lead, the Sunday Times says some of Britain's best known charities are being used by offshore trusts to shelter hundreds of millions of pounds from the tax authorities.
Terror warnings
A cache of two and a half million leaked documents from one of the world's biggest tax havens is said to reveal that rich investors are naming charities as the main beneficiaries of offshore trusts that in reality have been created to benefit themselves.
According to the Sun, persistent offenders with up to 20 previous convictions are being let off with cautions.
Figures researched by Labour show that more than 25,000 cautions were handed to serial lawbreakers between 2002 and 2011.
The paper says "career criminals" with more than 20 convictions are hardened felons by any reckoning, and should be behind bars.
Writing in the Independent on Sunday, Sir Richard Branson calls on the Foreign Office to stop issuing travel bulletins advising people not to visit countries affected by terrorism.
He says warnings of the risk of attack "are exactly what the terrorists want" and says "Getting on with life is the best way to show terrorists they will not win."
But the Foreign Office tells the paper it has a responsibility to make sure British nationals have the necessary information and advice so they can make their own choices.
Pupils got talent
Staying with the Independent, the paper gives over its front page and several inside pages to honour Britain's volunteers.
Presenting its annual "Happy List" list of 100 "unsung, inspiring" people, it says that - in the age of cuts - they are the true heart of Britain. Their caring, fundraising, mentoring and selflessness makes Britain a more contented, supportive, better-adjusted and happier place.
Finally, the Telegraph reports that the Education Secretary, Michael Gove, has backed plans for school staff to hold annual variety shows in which they dance, read poetry or play musical instruments for the pupils.
Teachers will also be encouraged to exhibit drawings or creative writing. An independent review into cultural education has said many school staff are highly talented in their particular field, but this can sometimes be forgotten.
The press also reveals how a world record has been set for the longest interval between the birth of twins - 87 days, beating the previous record by three days.
According to the Sunday Mirror, Maria Jones-Elliott, from Waterford in Ireland, went into labour four months early, giving birth to the first twin, Amy, with the second, Kate, arriving three months later.
Doctors have told Maria and her husband, Chris, that they have achieved the medical equivalent of winning the lottery, as both girls survived and are healthy.