RSPCA animal cruelty convictions up by a third in 2012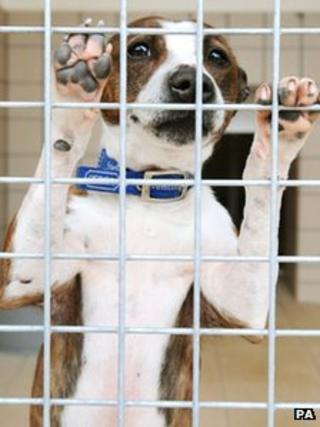 The number of convictions for animal neglect and cruelty in cases brought by the RSPCA rose by a third in England and Wales last year.
The charity's annual prosecutions report shows offences rose from 3,114 in 2011 to 4,168 in 2012.
Some 1,552 people were taken to court, up from 1,341 - an increase of 15.7%.
RSPCA chief executive Gavin Grant called the situation "a growing animal cruelty crisis" and urged judges to take "offences far more seriously".
Mr Grant said the RSPCA was "struggling to keep up" with the amount of cases it was faced with.
"For us, prosecution is always the last resort. Our inspectors investigated 150,833 suspected cruelty cases and issued 78,090 advice notices last year - these are extremely effective in improving the care of animals.
"However, if there is evidence of a crime and serious animal abuse then we will take legal action to protect the animals and prevent further abuse."
Roles questioned
The RSPCA's report catalogues the incidents of animal neglect and abuse the charity investigated.
These include a case of two puppies buried alive by their owner and another in which more than 30 rabbits and guinea pigs were found living among dead animals and slurry in a hutch.
The RSPCA said successful prosecutions relating to cruelty to small mammals such as rabbits and hamsters went up from 97 in 2011 to 354 in 2012, with convictions related to the treatment of farm animals up to 49 from 22.
The number of convictions linked to equine animals, such as horses, ponies and donkeys, rose from 230 in 2011 to 500 last year.
It rescued or collected 130,695 animals, up from 119,126 in 2011.
The cases have been highlighted during RSPCA Week, the charity's major fundraising push which runs until 5 May.
But the RSPCA's policy of bringing private prosecutions rather than referring them to the Crown Prosecution Service was raised earlier this year in a parliamentary debate.
Its role as both a prosecutor and campaign group was questioned by some Conservative MPs after members of Oxfordshire's Heythrop Hunt were fined in December 2012 for unlawfully hunting a wild fox with dogs.
The RSPCA said its various roles were independently run and that about five pence in every pound donated were spent on prosecutions. It prosecutes about 1% of all the incidents it is asked to investigate, with a success rate of approximately 98%.