Operation Elveden: Ex-prison officer and woman arrested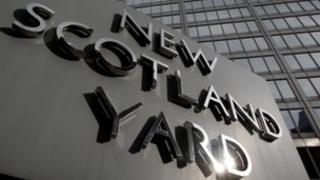 An ex-prison officer and a woman of 36 have been arrested as part of Operation Elveden on suspicion of conspiracy to commit misconduct in a public office.
The former prison officer, a man of 37, was arrested in south Wales.
The woman was arrested in Tower Hamlets, east London. She is also being held on suspicion of money laundering.
Operation Elveden is an investigation into alleged corrupt payments to public officials, which is running alongside the phone-hacking inquiry.
The latest Elveden arrests take the number of people detained in the inquiry to 64. The operation is being supervised by the Independent Police Complaints Commission.
Scotland Yard said the man was arrested at about 06:00 BST at his home and was being interviewed at a south Wales police station.
The woman was arrested at her home at about 06:00 BST and is being interviewed at an east London police station.