Sun journalists appear in court on bribery charges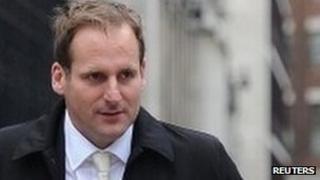 Two journalists from The Sun newspaper have appeared in court over alleged bribes paid to public officials.
Royal editor Duncan Larcombe and executive editor Fergus Shanahan are accused of conspiracy to commit misconduct in a public office.
Mr Larcombe is alleged to have paid John Hardy, a former colour sergeant at Sandhurst Military Academy, and his wife Claire Hardy for stories.
Mr Shanahan is charged with authorising journalists to pay public officials.
The charges arise from Operation Elveden, which is investigating allegedly inappropriate payments from journalists to public officials.
'Fight allegations'
Mr Larcombe, of Aylesford, Kent, and Mr and Mrs Hardy, from Lancashire, appeared at Westminster Magistrates' Court jointly charged with conspiracy to commit misconduct in a public office between February 2006 and October 2008.
It is alleged that between those dates, 34 payments were made either to Mr Hardy or his wife totalling over £23,000 for stories relating mainly to the Royal Family or occurrences at Sandhurst.
The public gallery was packed on Wednesday with people supporting Mr Larcombe and Mr Shanahan, including a number of The Sun's journalists and former News of the World deputy editor Neil Wallis.
In a statement read outside the court by his solicitor James MacWhirter, Mr Larcombe said he was "shocked and disappointed" to find himself charged.
"I hope to demonstrate that I am a responsible journalist who reported in the public interest," he said.
"As a royal reporter I worked harder than any other at the Palace putting in place and ensuring the application of a series of criteria that had to be satisfied before a story would appear in my paper.
"For the past year I have had to remain silent but my aim now is to fight these allegations with every breath in my body in the hope that justice and common sense will prevail."
Mr Shanahan, from Felsted, Essex, is charged separately with authorising one of his journalists to make two payments totalling £7,000 to an unnamed public official for information between 7 August 2006 and 14 August 2007.
Tracy Bell, 34, from Goldthorpe in South Yorkshire, also appeared in court, separately charged with misconduct in a public office.
It is alleged that Ms Bell, who was employed by the Ministry of Defence as a pharmacy assistant at Sandhurst Medical Centre, accepted payments totalling £1,250 between October 2005 and July 2006 for five articles published in The Sun about Sandhurst.
All were released on unconditional bail to appear at Southwark Crown Court on 3 June.
Meanwhile, a bodyguard for former News International chief executive Rebekah Brooks appeared in court, accused of conspiring to hide computers and other items from police investigating phone hacking and corrupt payments to public officials.
David Johnson, from Mitcham in Surrey, was released on bail to appear at Southwark Crown Court on 3 June.
During the four separate hearings in courtroom one on Wednesday, Mr Shanahan appeared first, followed by Ms Bell, then Mr Larcombe alongside John and Claire Hardy, followed finally by Mr Johnson.
So far, 70 people have been arrested as part of Operation Elveden.