Warning over juror internet research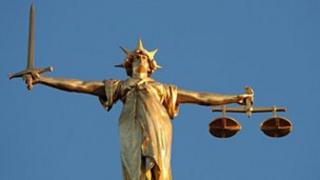 Jurors need to be better educated about the risk of doing their own internet research to prevent future trials being abandoned, researchers have warned.
It comes after a University College London survey of 239 jurors involved in 20 different crown court trials in the capital in 2012-13.
Web use during a trial could also see jurors face jail or fines for being in contempt of court.
But 23% of those surveyed said they were unclear about what was permitted.
Among those who were unsure about the rules of internet research, 16% believed no internet can be used and 5% thought there was no restriction at all.
But only a small proportions of all those surveyed said they used the internet during their time as a juror in ways that could potentially be legally problematic, said the UCL research.
Some 6% said they had looked up legal terms online, 1% looked up information on parties involved the case, 1% visited the crime scene virtually through sites such as Google earth, 3% discussed the case on social media and 1% blogged or chatted about the case online.
Prof Cheryl Thomas, who led the UCL research, said: "These findings show that the vast majority of jurors understand and follow the rules on how jurors can use new media during trial but the message is not getting through and is confusing to a significant minority of jurors.
"In order to minimise juror contempt in the new media age, jurors must understand the rules on improper conduct, know how and when to report improper conduct when they see it, and they should be able to do so with ease.
"If we ignore these critical factors, then we run the risk of creating the ideal conditions for a perfect storm of juror contempt."
Jury 'burden'
The research comes after a number of cases involving inappropriate use of the internet by jurors have led to juries being discharged, or trials abandoned.
In January 2012 Theodora Dallas was jailed for six months for contempt of court after researching a defendant's past on the internet and sharing the information with fellow jury members at Luton Crown Court. A retrial took place.
And in June 2011, juror Joanne Fraill, who contacted a defendant via Facebook, causing a £6m drugs trial to collapse, was jailed for eight months for contempt.
The rules on contempt of court in England and Wales are currently being reviewed by the Law Commission and the UCL researchers said they hoped its findings would contribute to this.
The research forms part of a wider study into preventing jury misconduct and improving deliberations.
While 94% of jurors surveyed said they would inform the court if they saw someone associated with the case talking to a fellow juror, 14% said they would not feel comfortable doing anything if they discovered another juror had found out information about the defendant not revealed in court.
Dr Noelle Robertson, who works in clinical psychology at the University of Leicester, has carried out research into the psychological effect of serving on a jury.
"It could be that people [on a jury] feel very burdened by what they see and are deliberating on," he said.
"Normal ways of dealing with problems, such as talking to family or friends are unavailable leading them to discuss things online."
The UCL study also indicated 82% of jurors would appreciate more information on conducting deliberations, an increase from 67% in a similar survey in 2010.
According to Dr Robertson this may be due to the stress caused by considering a distressing case as "when stressed, people struggle to process information".