Arrested suspects should retain anonymity, police told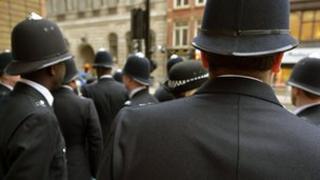 Police in England and Wales should not name arrested people until they are charged except in "clearly identified circumstances" such as when there is a threat to life, new guidance says.
The College of Policing advice follows a debate about releasing information in the wake of the Leveson Inquiry.
But it says prosecutors must be consulted if a name is to be withheld after a suspect has been charged.
Some newspapers have claimed such a policy amounts to secret justice.
They have argued that naming a suspect who has been arrested can lead to more victims coming forward and that allowing suspects to remain anonymous was making it harder for reporters to find out what police are doing in the public's name.
In his report on media ethics, Lord Justice Leveson said that arrested suspects should not be named "save in exceptional and clearly identified circumstances".
The College of Policing, the recently formed professional standards body, says its guidance was "intended to ensure a professional working relationship between police and the media".
It said: "Decisions must be made on a case-by-case basis but, save in clearly identified circumstances, or where legal restrictions apply, the names or identifying details of those who are arrested or suspected of a crime should not be released by police forces to the press or the public."
An arrested person could be named if there is a threat to life, to help the prevention or detection of crime or if it is a matter of public interest and confidence.
And it said an arrested person could be identified when there is a "policing purpose" and individuals themselves have the right to inform others of their arrest.
The guidance says that at the point of charge, forces can release name, address, occupation and charge details, but must consult the Crown Prosecution Service if they want to withhold the name.
It adds that there might be occasions when it is appropriate for officers or staff to speak on an unattributable basis - known as off-the-record briefings - to "clarify a point or illustrate a point, for example, to guide media away from an inaccurate story".
But such occasions should be "authorised and recorded".
'Under review'
Warwickshire Police recently came under fire for initially refusing to name a retired police officer charged with theft.
It then emerged Home Secretary Theresa May had written to the college to say she believed in protecting the identities of arrested suspects, unless it is in the "public interest", although people charged should have no right to anonymity except in "extremely unusual circumstances".
A Home Office spokesman said: "The home secretary has been clear that transparency and consistency should be at the heart of the criminal justice system.
"We will carefully monitor the way forces name suspects and keep the guidance under review."
Mrs May's comments prompted David Cameron to say there was a "difficult balance" between publicising arrests and respecting privacy.