Afghan detainee case studies: Father, 20, and teenager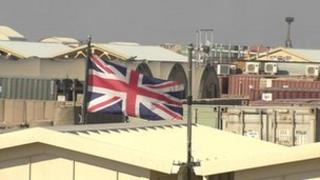 The UK government has confirmed a BBC report that up to 90 Afghans are being held without charge by British forces at Camp Bastion in Afghanistan.
The men are suspected of involvement in the insurgency and the government says their release could put British troops at risk.
But UK lawyers acting for eight of the men say they have been held for up to 14 months without being told why - and this could amount to unlawful detention.
The men have mounted a legal challenge to their detention at the High Court in London.
The BBC has chosen not to name them over fears for their safety, but what do we know about them?
'Handcuffed and led away'
A 20-year-old father is one of the detainees, legal papers filed at the High Court show.
He is married and has a child, a few months old, whom he has never seen.
One night in May last year, British forces entered the house where he lived with his brother. He was interrogated and arrested.
He said he was made to wear what he described as blacked-out goggles and handcuffed. He was then led away by at least 10 British soldiers, his brother says.
His family were told he was under arrest because it was believed he had spoken to a Taliban commander on the phone, but his relatives claim he had no involvement with the group.
They contacted the Afghan domestic intelligence agency, which said it had no intelligence that he was a criminal or involved with the Taliban and it would inform the British authorities of his innocence.
After an initial period of incommunicado detention, his family were eventually allowed to speak to him through the International Committee of the Red Cross (ICRC) every two weeks, but only over the internet or phone, and only with a British soldier present.
They are not allowed to visit him.
In a witness statement, his brother says: "If I could talk to British soldiers I would like to ask them what the case is against my brother. What was the crime and why has he not been charged?"
He asks that he be allowed to visit his brother in person and for his brother to be released to "continue the life he has only just begun".
'Powerless to help'
The detainee who has been held the longest - 14 months - is believed to be under 18, the legal papers show.
In March last year, British forces entered his village and conducted a large-scale security operation.
His father was told that his son had been arrested, along with a number of other Afghans in the village.
His family then heard no news about him for two months.
In May last year, a driver arrived in the village with a letter from the ICRC informing the family that he was being held in Camp Bastion.
His father travelled to the ICRC offices, where he has since spoken to his son every two weeks, but only over the internet or phone, and only with a British soldier present.
They are not allowed to visit him.
His father says that as far as he is aware his son has not been charged with any criminal offence.
His son said he had asked what evidence there was against him but has not been given a response.
In a witness statement, his father says his wife cries and asks about her son. He says he is "an innocent boy who does not deserve to be in detention".
He adds: "I feel powerless to help [him] and do not know what to do. We have no-one we can complain to. I am frightened about complaining to the British forces as I am worried they will detain him forever."