Assaults on football referees discussed by MPs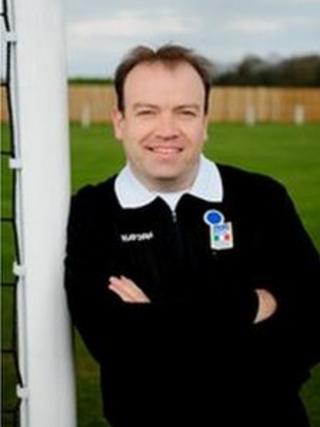 Footballers who attack referees should be dealt with more harshly by police and the courts, an MP has told the Commons.
Chris Heaton-Harris, the Conservative member for Daventry, wants ministers to push for more arrests and prosecutions.
Mr Heaton-Harris, who has been a referee for 33 years, is not calling for a change to the law but wants the government to send a "strong message".
Responding, ministers said such violence was "wholly unacceptable".
Senior referees have said they would "welcome a more robust approach".
Mr Heaton-Harris said Football Association efforts, such as the Respect campaign to improve behaviour by all those involved in football, have helped make violence less common.
FA figures for England and Wales show there were 618 assaults on match officials at all levels in 2010-11, then 528 in the following year and 491 in 2012-13.
'Kung fu kick'
But Mr Heaton-Harris said this progress has coincided with "dwindling support off the pitch".
"It seems like the police and Crown Prosecution Service are tending to treat quite serious assaults on football referees on the pitch as a footballing problem, and therefore not actually dealing with the issue in law," he said.
Mr Heaton-Harris raised several examples in the House of Commons, including a case where no legal action was taken against a man who "badly assaulted" a referee and left him needing stitches inside his mouth.
He said not enough cases were taken to court, and when they were resulting sentences were often too lenient.
He cited the example of a player who was sent off and reacted with a "kung fu kick" which knocked a 19-year-old referee unconscious and left him in need of hospital treatment.
The attacker was given a suspended sentence, fined and ordered to carry out community service, Mr Heaton-Harris said.
Strong punishments
Recalling an incident during a game he was refereeing two years ago, Mr Heaton-Harris said a coach had run at him from behind after he had given a disputed penalty.
"One of his own players rugby tackled him just before he got to me," he said.
The incident was reported to the police, who took "essentially no notice", Mr Heaton-Harris said.
Former Premier League referee David Elleray, now FA Referees' Committee chairman and a member of the Uefa Referees' Committee, said he would "welcome a more supportive and robust approach" from the police and the courts.
He added: "We would also like to see the court imposing strong punishments equivalent to those that would be imposed were the offence to take place on the streets."
Assaults on referees in the UK have never resulted in a death, but a US soccer referee died last month after being punched by a player, and eight people currently stand accused of kicking a linesman to death after a match in the Netherlands.
A junior minister at the Ministry of Justice, Jeremy Wright, said: "Violence in sporting events is wholly unacceptable and will not be tolerated; it's damaging to those involved and also for those who enjoy the sport.
"There are a range of offences which the police and CPS can use for violent incidents of any kind, including where the violence occurs in a sporting context, and there are severe maximum penalties available for those convicted."
Assistant Chief Constable Andy Holt, from the Association of Chief Police Officers (Acpo), said: "Violence at football games will not be tolerated and police work with the Football Association to deal with this issue.
"Police have an understanding with the FA that it will investigate incidents on the pitch, while our officers will investigate those incidents which happen off the pitch.
"However, referees and players are entitled to approach police themselves and their complaint will be investigated in the same way as any other."