Coronation memories: 'A wonderful spirit of joy'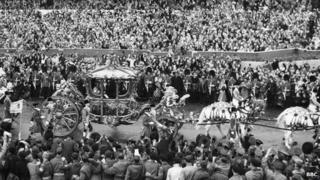 On 2 June 2013 Queen Elizabeth II celebrates the 60th anniversary of her Coronation in Westminster Abbey.
Coronation Day in 1953, with the scale and pageantry of its procession and ceremony, was a stark contrast to the austerity and rationing of postwar Britain.
Communities held street parties, neighbours crowded round new television sets to watch flickering black-and-white images, and thousands lined the streets of London to watch the new Queen pass by.
Sixty years on, many of you have shared your memories of that historic day. Here are some of your recollections.
Don Clifford, aged 22
I don't know how it happened.
I was in the Navy's Fleet Air Arm minding my own business and an officer told me I'd been picked to be part of the naval contingent marching behind the Queen at her Coronation.
We all went down to Lee-on-Solent, to the Fleet Air Arm's main barracks at HMS Daedalus.
We were still on rationing but we ate with the field gun crew who always got extra rations, so were quite spoiled!
It was a hard six weeks of learning to march 12 abreast, in time and keeping in line.
The night before, we stayed at Earls Court, sleeping on straw mattresses.
The army and air force contingents were sleeping there too, so it was crowded with service personnel.
We assembled in Hyde Park in oilskins because it was raining. When we took them off our lovely white gaiters ran.
We marched to the Abbey and when the Queen came out we marched behind her back to Buckingham Palace.
The crowd were cheering, but it's funny, you're just concentrating on marching and keeping a straight line.
You're aware it's all happening around you, but you're slightly detached as you're concentrating so much.
All that practising and long marching and I never even got to see the Queen!
Coming through Admiralty Arch we had to split and as we came back together it looked like an anchor, which was a lovely touch.
When it was all finished we were given a railway warrant and seven days' leave, which for a young married man was a definite highlight!
Don Clifford is 82 and lives in Congleton, Cheshire
Betty Graham-Higgs, aged 22
I was born in Jamaica and at 18 was sent to England to study. I spent a year in London in 1953.
My aunt had a high public profile in Jamaica for her charity work and received tickets for the Commonwealth stands outside Buckingham Palace for the Coronation.
She couldn't go, so since I was in London she gave the tickets to me.
We were surrounded by other Jamaicans and New Zealanders, who were so excited at times they almost fell out of the stand!
We were up at 4.30am and in our seats at 5.45am. We waited three hours in the rain before the procession started.
The procession was marvellous. For me, the Queen's Household Cavalry stood out, beating their drums.
When the Queen of Tonga came along with her exuberant dress and bare arms, and fan, despite the cold and rain, the crowd went wild.
There was a wonderful spirit of camaraderie, people laughing and singing songs.
The police were wonderful, allowing children and disabled people to come to the front.
There was a wonderful spirit of joy.
When the Queen came by, the applause was thunderous and she was smiling all the time.
After the Coronation the crowds ran up to the fountain at the front of Buckingham Palace.
It had no water in it and lots of us climbed on it to get a clearer view of the Queen and the Royal Family on the balcony.
Betty Graham-Higgs is 82 and lives in Buderin, Queensland, Australia
Lt Col Colin Davey, aged 25
I was in the army, serving in Korea at the time, in the 1st Commonwealth Division.
Hillary and Tenzing conquered Everest that morning. Hillary was a New Zealander, so the division was delighted.
To commemorate the Coronation the general took a parade, with a contingent from each brigade.
It was combined with an investiture of people who had won a medal or been given an MBE, so it was quite a day.
The war was still going on and we were just five miles from the front line, so we were all in our fighting uniforms.
We didn't usually have parades in a theatre of war, so for us it was very different.
It wasn't like the parade in London where everyone was gleaming.
It was hot, sandy and very dusty. And there were people engaged in the conflict who couldn't be there.
I was a military police officer looking after traffic control and making sure people were in the places they were supposed to be.
General West took the march-past, made a speech about the day and called for three cheers for Her Majesty at the end.
We were all desperately waiting for the end of the war, which came a month later.
Colin Davey is 86 and lives in Guernsey
Brian Parker, aged 11
I was probably one of the youngest spectators there in an official capacity.
I was in the east London Red Cross cadet unit. Each cadet unit only had one spectator ticket and I was given ours.
One of our Red Cross officers very kindly took me across central London in the middle of the night and handed me over to a chaperone, and then he left.
The Red Cross detachment were at the corner of The Mall and the Victoria Memorial, which was a great position.
The procession started about 8.30am and lasted a couple of hours, but it seemed endless.
The atmosphere was good, but the weather was cold and wet.
I was in my Red Cross uniform and carried my first aid satchel - which held my lunch for the day!
There were 100 cadets from across London. Ninety-nine girls and me.
I'd never seen anything like the Queen's Coronation coach. It was just an incredible fairytale spectacle.
At the end, I was cold and damp and my brilliant white Red Cross bag was all different colours from the sweets that had stained it.
I still have my special Coronation London Transport map with my name on it.
My family was bombed out of the East End of London during the Blitz and my mother must have been so proud that I was there to see the Coronation parade.
Brian Parker is 71 and lives in Avening, Gloucestershire
Michael Palmer, aged 14
It was most surprising. It was 5.30pm the day before the Coronation and my dear old mother, who was never spontaneous, all of a sudden said: "Why don't we all go to London to see the Queen?"
My dad and I were speechless.
We took my school friend David Woodcock on our adventure with us.
That evening we got to Piccadilly Circus and sat on the steps of Eros.
There was a steady drizzle but mum had the Thermos and lots of sandwiches.
Overnight the weather got worse, but I don't remember the night dragging on. There were thousands of people round about us.
Early in the morning the first issues of the morning papers were saying that Hillary and Tenzing had conquered Everest. That was quite a memory.
Then there was the procession itself.
The drizzle continued but we didn't feel miserably wet, cold and fed up as there was always so much going on.
The procession just went on and on. And, of course, there was the young Queen, which was wonderful.
All the uniforms and the beautiful coach and horses lifted the day with colour.
The atmosphere in the crowd was incredible: continuous clapping and cheering for hours.
It wasn't so many years after the war, so it was a real highlight in our lives.
I had a very happy childhood, but in the early 1950s life for many people was miserable with shortages and rationing.
So this was something which increased people's hopes in the future and the present.
Michael Palmer is 73 and lives in Vallensbaek, Denmark