Woolwich: Michael Adebolajo discharged from hospital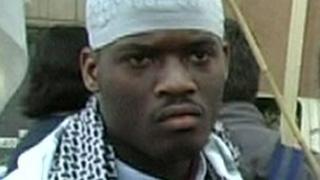 The second man arrested over the murder of Drummer Lee Rigby has been discharged from hospital, police say.
Michael Adebolajo, 28, has been taken into custody at a south London police station, where he will be questioned.
The other suspect, Michael Adebowale, 22, has been charged with the soldier's murder and appeared before magistrates on Thursday.
Drummer Rigby's family have called for calm amid reports of a rise in anti-Muslim incidents following the attack.
Mr Adebowale, of Greenwich, south-east London, and Mr Adebolajo, originally from Romford, east London, were shot by police and arrested at the scene of the killing near Woolwich Barracks on 22 May.
They were both held under police guard in hospital following the arrest.
Mr Adebowale was discharged from hospital earlier this week. He is due to appear in court again on Monday.
Police investigating the Woolwich attack have also arrested a 42-year-old man in north London and a 46-year-old man in east London on suspicion of involvement in the supply of illegal firearms.
'Harrowing experience'
Faith Matters, an inter-faith organisation aimed at tackling extremism, said it had recorded 212 incidents since last Wednesday, up from between four and six per day.
In a statement, Drummer Rigby's family said: "Lee would not want people to use his name as an excuse to carry out attacks against others".
"We would not wish any other families to go through this harrowing experience and appeal to everyone to keep calm and show their respect in a peaceful manner."
Drummer Rigby's regiment, the Royal Fusiliers, also issued a notice to veterans and serving soldiers warning them about being associated with far-right groups.
It said a number of retired soldiers had been approached to take part in demonstrations taking place in the wake of the soldier's death.
Brig Ian Liles, regimental secretary to the Royal Regiment of Fusiliers, said: "It is wrong and disgraceful that the death of one of our own should be exploited in this manner."
A separate notice issued by Army headquarters and passed on by Col James Stopford warned that "extremist organisations (the English Defence League in particular) will seize any opportunity to align veterans with their cause".
In other developments:
An inquest into Drummer Rigby's death was adjourned after hearing he was hit by a car and attacked with a knife and cleaver on his return to the barracks from work at the Tower of London. His family did not attend the brief hearing.
Police in Scotland said they had detained a 24-year-old man in Inverness after receiving reports of an "inflammatory remark" made on a memorial page for the soldier on Facebook.
Woolwich Mosque invited the community to share tea and biscuits after Friday prayers, an occasion which was also attended by the Bishop of Woolwich.
Police asked the British National Party to alter the route of a planned march from Woolwich on Saturday. Instead, it will be allowed to take place in Westminster.
On Friday, the Queen visited Woolwich barracks where she met officers and soldiers associated with Drummer Rigby in private.
The visit to see the new home of the King's Troop Royal Horse Artillery was planned before the attack.
During her visit, the Queen met Lieutenant Colonel Bob Christopher, commander of Woolwich Station, and his team, as well as staff from the Royal Regiment of Fusiliers' outreach team, Drummer Rigby's regiment, based at the Tower of London.
Her tour of the base was hosted by the commanding officer of the King's Troop, Major Mark Edward.
The regiment, which is a largely ceremonial one, is famed for firing gun salutes on royal anniversaries and state occasions, and for providing a gun carriage and a team of black horses for state and military funerals.
Baroness Thatcher's coffin was carried on a gun carriage from the King's Troop during her recent funeral, and on Monday the unit will fire a 41-gun royal salute from London's Green Park to mark the 60th anniversary of the Queen's Coronation.
During her visit, the Queen watched a gun team display in the riding school and visited the horses' stables, the forge where they are shod and the veterinary clinic.
She also presented medals to two members of the King's Troop - Lance Bombardier Dannielle Parker, 25, and Warrant Officer Second Class Jeremy Faulkner, 36 - who have recently returned from a tour in Afghanistan.
Her journey to the barracks in south-east London did not take her past the scene of Drummer Rigby's murder, where thousands of flowers have been laid by members of the public in his honour.
The total number of arrests made in connection with the attack stands at 12. So far, six of those arrested have been bailed and two released without charge.