Police case files often sub-standard, report says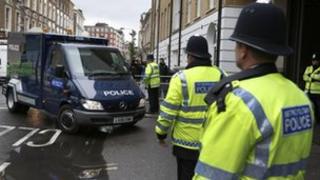 Most of the case files submitted by police for the courts in England and Wales are not up to standard, according to a report.
The HM Inspectorate of Constabulary and the Crown Prosecution Service report suggested police "do not fully understand" their role in taking cases to court.
Only three of 40 files examined were found to adequately summarise evidence.
The report calls for an "urgent" review of police training in legal procedures.
It says better training would help "streamline" the justice system.
When a case comes to court police have to prepare a document for prosecutors known as the police report, or MG5.
There had been a "marked decline" in the quality of these files, the inspection found.
'Spectre of bureaucracy'
The summary was often found to be an identical copy of the police officer's statement and failed to include important information. Some case files had incorrect lists of witnesses.
The inspectors said the "low levels" of police compliance with minimum standards in case preparation presented a "disturbing" picture.
The result was that further police work was required which, the report said, was "inefficient and wasteful of scarce" resources.
In a joint statement, HM Inspector of Constabulary Drusilla Sharpling and Chief Inspector of HM Crown Prosecution Service Michael Fuller said: "We believe the time has come to act decisively, with renewed focus and determination to streamline the criminal justice process and banish the spectre of unnecessary bureaucracy that has been, for far too long, an impediment to progress.
"We hope this review provides some insights on how police officer time might be freed up while improving performance within the system."
The report said the recently-formed professional standards body, the College of Policing, should urgently review and improve the quality of police training in matters such as criminal law and criminal procedure.
Closer supervision
It said police officers "lack sufficient training in and experience of the workings of criminal courts" and improvements would help boost their understanding.
The joint inspection also recommended closer supervision of police officers so mistakes were fixed quickly and time was saved in the preparation of cases.
It said while significant effort has been made in recent years to improve efficiency in both the custody and criminal justice process, there were still a number of issues which continued to generate delays in processing cases.
Reacting to the findings, Irene Curtis, president of the Police Superintendents' Association of England and Wales, said: "Whilst I'm pleased that the authors of this joint inspection report have called for decisive action to streamline the criminal justice process, I worry that we'll still be here in three or four years' time discussing similar reports without having achieved the goal we all want to see - an efficient, less bureaucratic and more victim-focused criminal justice system.
"The report highlights a number of concerns which have been raised in previous reports and which despite the best efforts of many, have still not been universally addressed."