Man, 72, arrested under Operation Yewtree on suspicion of sexual offences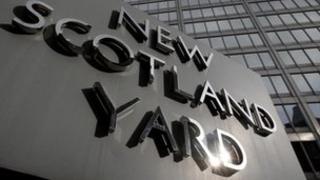 A 72-year-old man has been arrested on suspicion of committing sexual offences as part of the Operation Yewtree investigation into alleged historical abuse.
Scotland Yard said the man was arrested on Monday afternoon in east London.
He was later bailed until July.
Operation Yewtree was set up in the wake of allegations against Jimmy Savile, but the latest arrest falls under the strand of the investigation termed "others".
On Monday, a 65-year-old man also arrested under Operation Yewtree was released without charge.
He had been arrested in February in south London on suspicion of sexual offences and later bailed.
The Metropolitan Police said there was insufficient evidence to prosecute.
Police are investigating claims of sexual assault made against Savile, who died aged 84 in October 2011; those involving Savile and others; and those involving others unconnected to Savile.
Some 589 people have come forward with information relating to the investigation, with 450 of those alleging they were sexually abused by Savile.
In January, a joint report by the Met Police and the NSPCC said 214 criminal offences had been formally recorded across 28 police force areas in which the ex-presenter is a suspect.