Pamela Anderson 'sexist and degrading' TV advert banned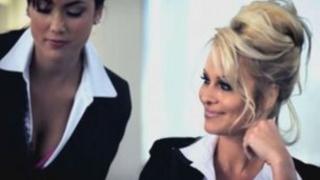 A TV advert for a web-hosting company in which a man fantasises about actress Pamela Anderson being squirted with cream has been banned for being sexist and degrading to women.
Anderson is portrayed chairing a business meeting while a male colleague dreams about her and another woman in bikinis being covered with cream.
Dreamscape Networks, the company in the ad, said it was tongue-in-cheek.
But the Advertising Standards Authority said it could cause serious offence.
In the ad, Anderson and a second woman are the object of a colleague's daydream while they discuss business ideas.
Once he has snapped out of the bikini fantasy, the second woman pours the man a coffee while he stares down her top.
Cleared for broadcast
Dreamscape Networks, an Australian web firm, said it was "anything but degrading to women".
It said its ad deliberately portrayed Anderson and her assistant as "attractive, dynamic and confident business people" in contrast to the "nerdy" male character.
But the Advertising Standards Authority (ASA) said the women were portrayed sexually with exposed cleavages throughout and that it gave the impression the man viewed his colleagues as sexual objects.
"Because of that, we considered the ad was likely to cause serious offence to some viewers on the basis that it was sexist and degrading to women," the ASA said.
It had initially been cleared for broadcast after the 9pm watershed by industry body Clearcast, which gives advertisements pre-approval.
But the ASA ruled it breached rules on harm and offence and should not be broadcast again at any time in its current form.
The watchdog received four complaints in February from viewers who saw the ad on Comedy Central and Sky One. They all reported seeing it after 9pm.
The same film was taken off air by the ASA's Australian equivalent after a series of complaints in 2010.
It was produced by The Brand Agency, an Australian company, but prepared for broadcast in the UK by London-based Space City.
Creative director Victor Van Amerongen told the BBC that Space City had edited and submitted the film for approval in the UK but could not be blamed for the content.