Afghan detainees: UK to restart transfers this month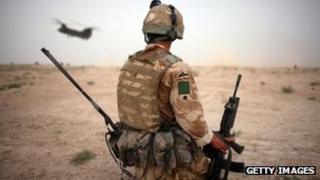 The UK is to restart the transfer of Afghan detainees captured by British forces to the Afghan justice system later this month, the MoD has said.
The BBC learned last week that dozens of Afghans were being held at Camp Bastion without charge.
The Ministry of Defence said it was "satisfied it is safe" to restart transfers from 26 June.
But lawyers acting for the detainees said they remained concerned they were being denied access to their clients.
Defence Secretary Philip Hammond confirmed that up to 90 suspected insurgents were being held at Britain's main base in Afghanistan.
He said he had banned transfers of detainees in November because of fears that they would be abused, and also argued that releasing them could endanger British troops.
US base
The detainees will be transferred to the Afghan National Detention Facility in Parwan province, about 700km (450 miles) from Camp Bastion.
The MoD said the UK government had been working with its Afghan counterparts to find a safe way to resume transfers of detainees to the Afghan judicial system since last November.
The UK would not transfer detainees to any facility where there is a real risk of serious mistreatment, the MoD said.
It said many of those held were suspected of involvement in preparing, laying, or facilitating the use of improvised explosive devices against British forces, or had been picked up at the scenes of shootings of British soldiers.
They were held pending transfer to Afghan authorities for prosecution, it said.
Mr Hammond said the facility at Parwan had received "positive reports" from humanitarian organisations.
"Our coalition allies also now transfer detainees to the same Afghan facility. I am confident the safeguards in place will ensure detainees will not be at risk of mistreatment," he said.
"Detaining individuals on the battlefield is crucial to stopping those who intend to kill British servicemen and women. Our troops must be able to detain enemies on the battlefield and debrief them for intelligence purposes and will continue to do so before transferring them into the Afghan judicial system."
'Exceptional circumstances'
Suspects in Afghanistan are normally allowed to be detained by British forces for 96 hours.
But in "exceptional circumstances" - to gather critical intelligence, for example - they can hold them for longer.
Parliament had been informed and updated about the "temporary holding facility" at Camp Bastion, but the number of detainees currently being held there had not been known until the BBC reports last week.
Lawyers said the detainees had been arrested by British soldiers in raids in villages in Helmand and Kandahar provinces and held for up to 14 months without being told why.
They argued their detention could be unlawful and launched habeas corpus applications at the High Court in London.
'Haunt'
Habeas corpus argues for the right to be brought before a court to determine whether their detainment is lawful or not.
It is unclear whether a full hearing - due in late July - will now take place.
A statement from Public Interest Lawyers, which represents nine detainees, said: "We remain extremely concerned that the secretary of state is refusing to allow us access to all but two of our clients.
"There can be no justification for denying individuals, who have been held for many months without charge, access to legal advice."
Richard Stein, from law firm Leigh Day which is representing one of the detainees, added: "We are not reassured by Mr Hammond's assertion that he is 'satisfied it is safe'.
"This decision that Mr Hammond appears to have taken could come back to haunt him should evidence emerge that those prisoners being transferred end up victims of torture, or worse, dead.
"The government must not act in breach of the rule of law in Afghanistan, that would undermine the very reason it says we have been fighting a war there - to help establish a democracy and a just legal system."