Woolwich murder suspect's video link to court cut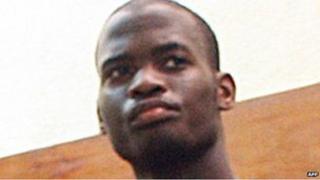 One of the men accused of the murder of Drummer Lee Rigby had his video link to court cut after repeatedly interrupting the judge.
Michael Adebolajo, 28, continually attempted to interject in the pre-trial hearing to complain about the way he says he has been treated.
He told the court: "I am a man, I am a soldier, I am a British citizen."
Speaking from Belmarsh prison, Mr Adebolajo was flanked by two prison officers in full riot gear.
They were wearing the riot gear after an unusual application from the prison to have the defendant restrained.
Prison officers told the court they wanted the defendant handcuffed because of their "dynamic risk assessment" that he was unpredictable.
The suspect, who had asked the court to address him as "Mujahid Abu Hamza", was initially handcuffed to one of the prison officers.
'Kindly be quiet'
The court heard Mr Adebolajo had not received medical reports that his lawyers say may be relevant to his fitness to be detained.
Before his barrister could fully explain his client's complaints, the suspect interjected, saying he had verbally resisted the officers - but only because they had strip-searched him twice.
"I am a man, I am a soldier, I am a British citizen - you can't see my privates like that," he said.
Mr Adebolajo then invited the judge and his lawyer to "please continue".
Mr Justice Sweeney said: "Mr Hamza, in court in order to have proceedings that get to the point, people speak when asked to be spoken to. Kindly be quiet."
"We wouldn't want the truth to come out," replied the prisoner to the judge. "Stop trying to stifle the truth."
The judge replied: "If you continue to interrupt, you will be cut off."
As a prison officer began explaining their security concerns, Mr Adebolajo interrupted again.
He said to the judge: "Jobsworth speaking now - thank you for your patience."
"My patience can only go so far," replied Mr Justice Sweeney.
'Brave judge'
The judge eventually agreed that the defendant should not be handcuffed.
Mr Adebolajo then said three times: "May Allah bless you."
He continued: "That man who is wearing the white wig and red robe. Bless that man... This is the beginnings perhaps of a brave judge and a righteous one too."
Mr Adebolajo's legal team did not oppose his remand in prison - but they told the court he had so far not seen medical and psychological reports which may be relevant to whether he is fit to be detained.
They asked whether their client should appear in person in court. The suspect again interrupted, beginning another long speech to the judge.
"You can judge a man better when you can see him," said the defendant.
At that point, the judge acted on his previous warning and cut the video link.
In his ruling, the judge ordered prosecutors to disclose two medical reports to Mr Adebolajo.