Andy Coulson pleads not guilty to phone hacking charge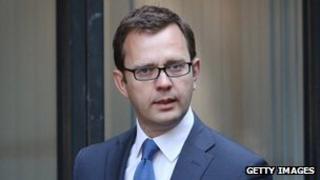 Former Downing Street spokesman Andy Coulson has pleaded not guilty to phone hacking and bribing public officials during his career as a journalist.
Mr Coulson denied one count of illegally intercepting communications and two counts of paying public officials for information.
The former editor of the News of the World entered the pleas at Southwark Crown Court and was released on bail.
Former news editor Ian Edmondson also pleaded not guilty to phone hacking.
Mr Coulson, 45, from south east London, became deputy editor of the now-defunct newspaper in 2000 and was editor from 2003 to 2007.
He then became the Conservative Party's director of communications and continued working for David Cameron in government after the 2010 election, before resigning in January 2011.
Prosecutors allege the phone-hacking offence took place between October 2000 and August 2006.
Mr Coulson is also charged with two counts of misconduct in public office, relating to alleged payments for information from public officials, the first of which allegedly took place between August 2002 to January 2003, and the second between January and June 2005.
The charges were brought as part of Operation Weeting, Scotland Yard's investigation of phone hacking, and Operation Elveden, its probe into alleged corrupt payments to public officials.