Archbishop of Canterbury to meet Pope Francis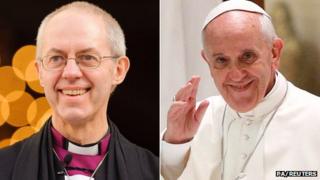 The Archbishop of Canterbury is to meet Pope Francis for the first time later this week, the Vatican has announced.
The Most Reverend Justin Welby will be travelling to Rome on Friday with the Archbishop of Westminster Vincent Nichols, the leader of Catholics in England and Wales.
Lambeth Palace said his wife Caroline would also attend the "personal and fraternal visit".
An "extended" Vatican trip is scheduled for later in the year, it added.
The Vatican said the Archbishop of Canterbury and the Pope shared an interest in global justice, ethical regulation of financial markets and conflict resolution.
It said the archbishop, who recently spoke against the gay marriage bill in the House of Lords, had collaborated "closely" with the Most Rev Vincent Nichols to "safeguard" marriage and other Christian values.
In a statement, the Vatican's Pontifical Council for Promoting Christian Unity said: "It is a sign of their close relations that Archbishop Nichols will accompany the Archbishop of Canterbury on this visit."
The Most Rev Welby was enthroned as the head of the Church of England and leader of the worldwide Anglican Communion, in March, just days before the inauguration of Pope Francis.
Ahead of his meeting with the Pope, the Archbishop of Canterbury will visit the excavations beneath St Peter's Basilica to pray at the tomb of St Peter.
He has also asked to be able to pray before the tomb of the late Pope John Paul II, who died in 2005, the Vatican said.