Prisoner voting: Government urges Supreme Court to uphold ban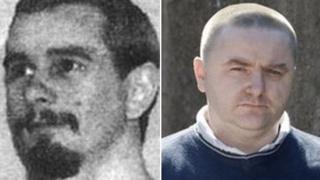 The government's top legal adviser has urged judges to reject the appeals of two convicted murderers fighting for the right to vote while in prison.
Attorney General Dominic Grieve said the Supreme Court could depart from European judgements and "take its own course" as prisoners Peter Chester and George McGeoch challenged a voting ban.
Strasburg has said a blanket ban on serving prisoners voting is unlawful.
Under current UK law, only prisoners on remand are entitled to vote.
Section three of the Representation of the People Act 1983 bars convicted prisoners in the UK from voting in parliamentary and local government elections.
Meanwhile, under the European Parliamentary Elections Act 2002 a person is entitled to vote in European parliamentary elections if he is entitled to vote in parliamentary elections.
'Implications'
The European Court of Human Rights (ECHR) ruled in 2005 that the UK's total ban on prisoners voting was a breach of human rights, following a challenge by convicted killer John Hirst.
It said individual countries could decide which inmates should be denied the right to vote, but that an all-out ban was illegal.
McGeoch, from Glasgow, is serving a life sentence for the murder of Eric Innes in Inverness in 1998.
Aiden O'Neill QC, representing him, said his arguments before the court were "based solely and squarely" on the right to vote set out in EU law.
He said that although the case was not "a class action", it "may have implications" for others.
Chester, who is in his 50s, originally had his voting claims rejected by the High Court in 2009.
He is serving a life sentence for raping and strangling his seven-year-old niece in Blackpool in 1977, and has exceeded the minimum term he was ordered to serve before becoming eligible to apply for parole.
In written argument before the court, Hugh Southey QC, representing Chester, said his case "concerns the right of convicted prisoners, and in particular, indeterminate sentence prisoners whose minimum terms (or tariffs) have expired, to vote in parliamentary and European parliamentary elections".
Three options
During the two-day Supreme Court hearing, Mr Grieve acknowledged that the case raised "broader constitutional questions".
But urging the seven justices to reject the pair's appeal, he argued that the Supreme Court was "not bound to apply the Strasbourg jurisprudence", but only to take account of any judgement of the ECHR.
"This court is entitled to take its own course and should do so where it has sufficient doubt about the soundness of the reasoning adopted by the European Court of Human Rights," he added.
Mr Grieve told the justices the proposed Voting Eligibility (Prisoners) Draft Bill was currently being scrutinised by Parliament.
In it, the government has put forward three options - keeping the existing blanket ban, giving the vote to convicted prisoners serving up to six months or giving it to those serving up to four years.
Prime Minister David Cameron has said the idea of giving prisoners the vote makes him "sick".
"No-one should be under any doubt - prisoners are not getting the vote under this government", he told MPs in October.
June Gillbanks, whose daughter Donna was murdered by Chester, told the BBC the men were "animals" and the court case was "wasting taxpayers' money".
She added: "Where were my human rights? Where were Donna's human rights?"
The Supreme Court reserved its judgment to a date to be announced.
The hearing came days after a committee of Scottish politicians threw out a bid by two MSPs to give prisoners the chance to vote in next year's Scottish independence referendum.