Jordan passes Abu Qatada treaty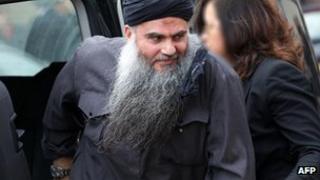 Jordan's parliament has approved a treaty with the UK designed to lead to the deportation of Abu Qatada.
The treaty is now awaiting approval by Jordan's King Abdullah - the final key stage before the deal becomes law.
The vote in Parliament means the process to deport the radical cleric is likely to resume within weeks.
The cleric has already indicated he will not challenge deportation if the treaty is passed because the document guarantees him a fair trial.
In a statement to the BBC, Dr Mohammad Al- Momani, Jordan's information minister, said: "The government has ratified the treaty as well as parliament.
"The Treaty is mutual legal assistance and can include any persons from each country."
Jordan's Parliament approved the treaty in two stages over the last week as it passed through the lower and upper house. The treaty goes into law after the king issues a royal decree and the document is published in the Jordanian government's official gazette.
Westminster steps
The UK-Jordan Treaty on Mutual Legal Assistance is before MPs and Peers at Westminster. It is expected to become part of British law on 21 June, unless there is an unexpected late request for a vote or debate in Parliament.
Assuming the Treaty passes all of its legal hurdles in both countries, the cleric's deportation would then resume.
UK Home Secretary Theresa May would be able to issue a fresh deportation order. The cleric would have time to respond if he wished to but that is expected to be only a few days.
If he keeps to an assurance given in court that he will leave the UK because the Treaty guarantees a fair trial, he would be put on a plane in a matter of weeks, not months.
A spokesman for the prime minister said: "Obviously the announcement from Jordan today is good news but from our perspective the case is still on-going and the prime minister is clear in his determination to put Abu Qatada back on a plane to Jordan."
Abu Qatada has fought against deportation from the UK for almost eight years. He has argued he would face inhumane treatment and that he could not get a fair trial.
The European Court of Human Rights and senior British judges ruled Jordan must show Abu Qatada would not face a trial that relied on evidence obtained by torturing others.
The Treaty, signed in March, states that anyone deported from the UK must be treated humanely and be given a fair trial. It includes specific guarantees designed to ban the use of torture evidence.