Newspaper review: Papers focus on honours and summit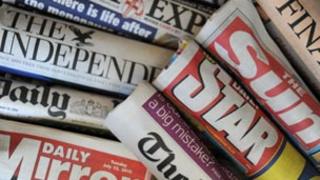 The Queen's Birthday Honours have been announced - but, according to the Daily Mail, it is a "pretty rum do, even by the ropey standards of recent lists".
The paper says Robert Collington, a director of Thames Water, has been given an OBE "for banning hosepipes in the middle of a flood".
Tony Robinson, who becomes a knight, is labelled "an occasional actor and Labour luvvie", and the Conservatives do not escape, either.
"As usual," says the Mail, "the Tories found space on the list for a millionaire donor - this time the controversial hedge fund baron Michael Hintze."
Summit view
David Cameron is interviewed in the Guardian - but not about the Queen's honours.
Instead, just days before the G8 summit in Fermanagh he questions the usefulness of such meetings.
"Too many of them are about long communiques with endless textual arguments," he says. "I once asked where the communiques go after we agree them - is there an elephant's graveyard for them?"
The interview ends with the prime minister noting that countries chair the G8 only once every eight years. "I'm already looking forward to my next one," he says.
Security effort
According to Simon Heffer in the Daily Mail, the G8 is a "laughing stock" and a "pointless jamboree".
The summit will cost the UK taxpayer £50m, he says. "Isn't that a lot to pay, when mutual animosity will prevent them from agreeing to anything?"
The Independent looks back at the last G8 held in the UK, at Gleneagles in 2005.
Rating that summit's achievement, the paper gives it eight out of 10 for cancelling debt, five out of 10 for increasing aid and one out of 10 for improving trade.
Meanwhile, the Daily Telegraph carries a picture of some of the G8 security - two long rolls of thick razor wire, stretched round the edge of Lough Erne golf course in Enniskillen. "Out of bounds," reads the headline.
Biscuit bill
One imagines the Taxpayers' Alliance is not happy with the cost of hosting the G8.
It has a report, carried in a number of papers, that claims the state wasted almost £120bn in the past year - or £4,500 for each family.
Most of that waste, claims the report, comes from over-generous pay and pension deals for public sector workers.
But the Times points out some other examples such as the government's £3m biscuit bill, Cotswold Council spending £19,000 on a magician and Bury Council spending £9,000 on iPads for binmen.
Finally, the Sun carries a report from train operators who have compiled the best excuses for fare dodging.
All apparently heard by ticket inspectors, they include "I fell through the door and landed on a seat," "I only got on the train to use the toilet" and "I thought it was free on a Sunday".