Police officer and woman arrested in 'plebgate' probe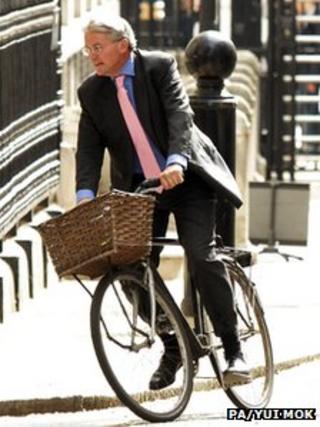 Two more people, including a serving UK police officer have been arrested over the "plebgate" row involving the former government chief whip Andrew Mitchell.
The male constable, aged 48, was arrested on suspicion of misconduct in a public office on Saturday morning.
A 49-year-old woman was also arrested on suspicion of assisting an offender.
The MP has apologised for not treating officers with respect after he was told not to take his bike through the main Downing Street entrance in September.
The Conservative admitted swearing at them but has always disputed newspaper claims he described police as "plebs".
The officer and the woman were arrested at separate addresses and taken to different police stations - one in London, one outside of London - where they remain in custody.
Operation costs
The arrests are part of Operation Alice, the investigation into alleged misconduct as well as the unauthorised leaking of information to newspapers about the incident, which led the MP to quit the cabinet.
They come after officers received fresh information regarding the investigation on 4 June.
The constable, who was arrested, serves in the Diplomatic Protection Group, said police.
He is one of four officers previously told there was going to be an investigation into their conduct and he has been on restricted duties.
The Independent Police Complaints Commission has been informed.
A total of six people have been arrested as part of the investigation.
The duration and cost of Operation Alice has sparked anger among MPs. It has already taken eight months and cost taxpayers more than £140,000.
Earlier this month, London Mayor Boris Johnson was forced to defend Sir Bernard Hogan-Howe's role in the case and express his "absolute confidence" in the Metropolitan Police Commissioner.