Cairo plane diverted to Glasgow Prestwick back in air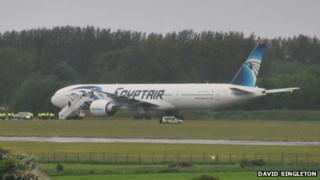 A plane that was diverted to an airport in Scotland following security fears is back in the air, police have said.
Egyptair flight 985 from Cairo to New York landed at Glasgow Prestwick Airport on Saturday after a threatening note was found in the toilets.
The Ministry of Defence confirmed that RAF Typhoon aircraft were called following an "incident on board".
But police said that, following a search of the plane overnight, it had been allowed to continue its journey.
"Officers from Police Scotland have carried out an extensive search of the aircraft resulting in no suspicious items being found," a spokesman for the service said.
"Passengers and crew are now aboard and the aircraft is continuing its flight to New York.
"Officers continue to investigate the circumstances of the incident."
'Start fire'
BBC producer Nada Tafik was on board the plane to JFK International Airport and said she saw a note apparently threatening to start a fire.
The handwritten note also had a seat number written on it.
The Boeing 777 was escorted to Prestwick Airport, Ayrshire, by RAF Typhoons, landing at about 14:30 BST on Saturday.
The aircraft, met by a heavy police presence, was carrying 326 passengers who were allowed to start to disembark three hours after the plane landed.
The airport remained open during the incident.