Super-jails should replace run-down prisons - Policy Exchange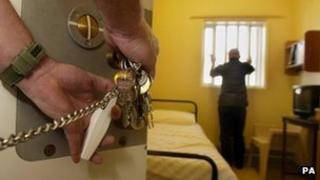 More than 30 "run-down and poorly-located" prisons should be replaced by 12 "super-jails" each with thousands of inmates, a report has said.
Ex-Ministry of Justice deputy director Kevin Lockyer said it could save £600m a year in operational costs alone.
The former prison governor carried out the report for right-leaning think tank the Policy Exchange.
The Prison Reform Trust said it would be a "gigantic mistake" to spend money on a series of super-sized jails.
'Busting myth'
Mr Lockyer said the new prisons would have a campus-style design centred around a shared-service hub.
Among the prisons he has suggested closing are Brixton, Feltham, Holloway, Pentonville, Wandsworth and Wormwood Scrubs, all in London.
He said the operational savings would amount to 20% of the prison budget and 9% of the Ministry of Justice's departmental budget.
Mr Lockyer said: "We are busting the myth that small is beautiful when it comes to prisons. In fact, newer prisons outperform older ones, regardless of their size.
"We need to build larger, newer facilities that use the most up-to-date technology to monitor inmates.
"New hub prisons will not only reduce reoffending and improve safety, they will also deliver vast financial savings and better value for money for the taxpayer."
Mr Lockyer said the government should focus on cutting the cost per prisoner rather than trying to reduce inmate numbers and closing jails.
Brownfield sites
The report said a quarter of prisons were built either in the Victorian era or before that. A similar number of jails were built - often poorly - in the 1960s and 1970s, it added.
Mr Lockyer recommended building new prisons on brownfield sites, financed through public sector borrowing.
Prison Reform Trust director Juliet Lyon said: "With crime falling and community sentences and treatment to tackle addictions working to reduce reoffending, it would be a gigantic mistake to pour taxpayers' money down a super-sized, big brother prison-building drain.
"There is scope to close some outdated prisons and reinvest the money saved into effective community solutions to crime."
She said the cross-party Justice Select Committee had laid out a plan for bringing down the costs of "ineffective prison sentences" by diverting money into mental healthcare, drug treatment and alternatives to custody.
"The prime minister thinks - and prison governors, prison officers, independent monitoring boards and prison inspectors agree - that the idea that 'big is beautiful' with prisons is wrong."