Newspaper review: Syria intervention pondered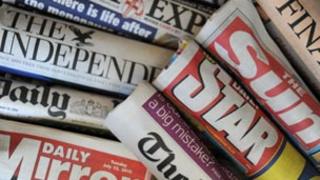 The Times warns that "standing by as Syria burns is now untenable" and that it is time for world leaders to end their posturing and make a decision on arming the country's rebels.
The paper argues that providing "moderate" rebel leaders with the means to defend themselves is the least bad option after what it calls "two years of drift".
It notes that any international intervention will come too late for the thousands of Syrians killed in the conflict but says, even at this stage, it is not too late to help.
The Independent firmly disagrees and says injecting more weaponry into an already explosive situation is not the answer.
It cautions that the civil war cannot be seen in terms of a "simple case of good versus evil" and that it would be impossible to ensure that the weapons "go to the right people".
In the war of words on Syria, it notes that loose talk is dangerous and that UK Prime Minister David Cameron and US President Barack Obama could find themselves boxed into a corner where the choice is "to intervene or lose face".
It reflects that it is seldom a good idea to talk about a threat unless you are prepared to carry it out.
'Sitting out'
The Daily Telegraph concludes that the political spirit to intervene is weak because Britons are haunted by memories of the intractable nature of the violence in Iraq and Afghanistan and are anxious about enduring austerity at home.
Most find it baffling, it says, that Mr Cameron could even countenance involving himself in such a mess.
However, the paper urges people to understand that "sitting this one out" carries a price as well.
If the prime minister wants to save Britain from international relegation then he needs to accept that there is a responsibility to stand up and be counted when the need arises, it adds.
The Guardian doubts whether any agreement reached on Tuesday at the G8 summit in Northern Ireland on an action plan for Syria would have any teeth.
It notes that the most contentious issue - of arming the rebels - has been deliberately set aside.
Tuesday is going to be "an extraordinary test", it says, of the PM's "still relatively unknown diplomatic skills".
'Cop-out'
Several papers rail against what they call the "unduly lenient" sentence given to the broadcaster Stuart Hall for sex offences against young girls.
"It's a cop-out," according to the Sun, which says the women who came forward have been left "stunned" in what is "a sickening new low for Britain's soft justice system".
The paper argues it does not matter how old or famous Hall is, the judge "called this wrong and let the victims down".
The Daily Star agrees age is no excuse for not locking him up for longer and says the passage of time does nothing to diminish his crimes.
The Daily Mail bemoans the sentence as "an insult to all his victims".
The Times urges parents to drum home to their children the importance of using mobile phones and hand-held gadgets responsibly when walking to school.
It quotes the findings of a report which show that road deaths rise at 11 - the age pupils tend to get their first phone - and that children of this age are three times more likely to be killed or hurt on the roads than 10-year-olds.