Assange 'to stay in embassy even if sex claims are dropped'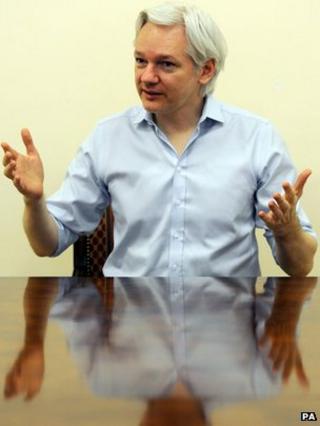 Wikileaks website founder Julian Assange has vowed to remain in the Ecuadorian embassy in London even if accusations of sex crimes are dropped.
He walked into the building a year ago when his appeal against extradition to Sweden for questioning on claims he has always denied was turned down.
He said he still feared being sent to the US for releasing secret documents.
The foreign secretary has told MPs there was no progress on the case at talks with his Ecuadorian counterpart.
Speaking to journalists at the embassy in Knightsbridge, Mr Assange said he always believed it could take between six months and two years to resolve his case.
"My lawyers have advised me I should not leave the embassy because of the risk of arrest and extradition to the US," he said.
He claimed there was a sealed indictment already lodged against him in the US which would lead to him being taken from the UK if he stepped outside the embassy.
He said: "The strong view of my US lawyer is... I would be arrested, unless the British government gave information or guarantees that would grant me safe passage.
"We know there is an ongoing investigation in the US and we know I am a target of the Federal grand jury. There is a 99.97% chance that I will be indicted.
"So if the Swedish government drops their request tomorrow, I still cannot leave the embassy."
'Less stressful'
Mr Assange was granted asylum last year by the Ecuadorian government after a final appeal against his extradition was turned down by the UK Supreme Court.
Talking to reporters Mr Assange, pointed out that he had effectively been under house arrest for almost 600 days as he fought extradition to Sweden through the courts and had to wear an electronic tag on his ankle and report regularly to the police.
"It is less stressful in the embassy," he said, although he said there could be long-term physical problems to staying indoors for so long.
He said it was not healthy not to have any sunlight, but rejected reports suggesting he was ill and said he took regular exercise.
He has a sun lamp and treadmill as well as a computer where he says he spends 17 hours a day working.
The UK says it has a legal obligation under European law to see that Mr Assange is sent to Sweden where prosecutors said in 2010 that they want to question him.
But Mr Assange argued that the UK was in breach of international law.
"It is legally bound, under higher laws which it has acceded to, as part of its United Nations obligations, to accept the transfer of political refugees to the country which granted asylum," he said.
"That the UK government chooses to ignore its obligations under international law and instead favour an interpretation of EU law is, of course, political."
He added: "My case could be swiftly resolved if Sweden were to guarantee that I would not be extradited to the US or if the British government would guarantee to veto any such extradition to the US."
On Monday, Ecuador's foreign minister, Ricardo Patino held talks with UK Foreign Secretary William Hague on a visit to London.
He said its embassy in London would continue to provide political asylum Mr Assange.
The Foreign Office said: "Ministers agreed that officials should establish a working group to find a diplomatic solution to the issue of Julian Assange, but no substantive progress was made.
"The foreign secretary was clear once again that any resolution would need to be within the laws of the United Kingdom."
Updating MPs on the talks, Mr Hague said they "did not make a breakthrough, we did not make substantive progress" but had agreed that officials would meet again to discuss the issue.
Meanwhile, the Metropolitan Police has estimated cost of policing the Ecuadorian embassy between June 2012 and end of May 2013 was £3.8m.