Jimmy Savile: Recorded sex crimes up 9% since scandal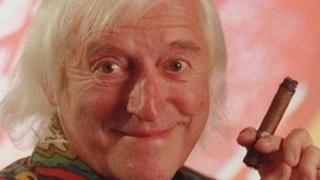 The number of sexual offences recorded by police rose by more than 9% after revelations about Jimmy Savile emerged, figures obtained by the BBC show.
The statistics were provided to BBC Radio 5 live following a request under the Freedom of Information Act.
Separate research for the BBC suggests a number of the fresh allegations relate to claims of historical abuse.
The National Association of People Abused in Childhood said victims now felt more confident about speaking out.
The ITV documentary Exposure: The Other Side of Jimmy Savile was broadcast on 3 October 2012 and featured the accounts of five women who said they had been assaulted by the Jim'll Fix It presenter, who died in 2011.
In the six months following the broadcast, police recorded more than 33,000 sexual offences - a rise of 9.2% on the same period a year earlier.
There were increases in Scotland, Northern Ireland and in 32 of the 43 forces in England and Wales, with the biggest rises in Bedfordshire and West Yorkshire, where Savile used to live.
Scotland Yard launched Operation Yewtree in the wake of the revelations against Savile and others and 589 people have come forward with information relating to the investigation - 450 of those allege they were sexually abused by Savile.
A third strand of the operation concentrates on accusations unconnected to the Savile investigations but which emerged as a result of the publicity surrounding Savile.
Detective Superintendent Karena Thomas, the head of Bedfordshire Police's public protection unit, which saw the number of reported sex crimes leap by 92% from 173 cases in Oct 2011-Mar 2012 to 332 over the same period the following year, said: "While we recognise there has been a considerable increase in reported sexual offences, the actual number of crimes committed remains very small in comparison with overall crime.
"Changes to such small numbers creates significant percentage increases, however, and there are a number of reasons for this and it is important that we put the figures in some context.
"We have seen an increase of around 40% in historic sexual offences being reported, a result of publicity around Operation Yewtree."
In West Yorkshire, there was a 66% rise in recorded sexual offences - up from 938 offences in the six months to 1 April 2012, to 1,560 in the same period a year later.
West Yorkshire Police say 79 of the recorded crimes in the most recent period related to Savile, and he alone accounted for 12% of the rise.
Peter Saunders, chief executive of the National Association of People Abused in Childhood, says the government needs to provide more funding for specialist support services.
He told BBC Radio 5 live: "It's great that survivors have been given more confidence to come forward and report these crimes. But coming forward has a massive impact on lives, and there urgently needs to be more support for those people.
"Our organisation is lottery funded and there is no specific central funding stream for victims of childhood sexual abuse. The government needs to step in."
Policing and criminal justice minister Damian Green said a new Home Office-led group would look at how to better identify children at risk and create a more "victim-focused culture" in the police, health and children's services.
"It is vital that we learn the lessons from past and current cases to ensure victims are not left to suffer in silence," he said.
Sue was abused by her stepfather between the ages of eight and 15.
He has been in prison since 1999 after being convicted of raping and indecently assaulting her.
She says: "There's been a massive upturn in people coming forward and speaking out. This is a huge problem, and has been a taboo subject for decades. People have swept it under the carpet, nobody wanted to talk about child abuse because it's the worst crime. Now everyone's talking about it.
"You're groomed into thinking you'll never be believed, and that never goes away. That's why it's so difficult for people to come forward.
"But when other people come forward it gives others the confidence to think police will take it seriously."
Steve Williams, national chairman of the Police Federation, says: "The figures show that people feel more confident to come forward and report sexual offences to the police. Clearly there's been an increase in reported sexual offences after the Jimmy Savile affair.
"The government and the police and crime commissioners need to be very conscious that we need to invest resources properly into dealing with such serious matters."