Archbishop of Canterbury begins visit to Middle East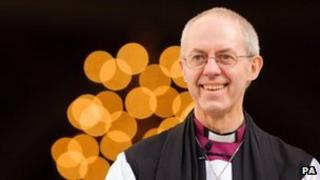 The Archbishop of Canterbury is leaving for the Middle East on a five-day tour to meet Christian minority groups.
The Most Reverend Justin Welby will visit Egypt, Jordan, Israel and the Palestinian territories.
BBC religious affairs correspondent Robert Pigott said the trip was partly intended as support for hard-pressed Christian minorities.
Archbishop Welby said he was "deeply concerned" about the "pressures on Christian communities" in the region.
Lambeth Palace said the archbishop wanted to go to the Middle East so soon after his appointment because of the significance of the region in relationships between religions.
Officials said the archbishop was "keenly aware of the particular pressures" there at the moment and "deeply concerned for justice and for the security of all peoples of the region".
'Devastating conflict'
Our correspondent said the political turmoil that has followed the national revolutions of the Arab Spring and the conflict in Syria has undermined Christian communities.
Christian minorities have suffered violent attacks and harassment in Iraq, Syria and Egypt, among other countries, and many Christians have fled the region, he added.
The archbishop will meet the leader of the Coptic Orthodox Church in Egypt, Pope Tawadros II, and Anglican bishops in Jerusalem, as well as Muslim and Jewish leaders.
Archbishop Welby - who spent his honeymoon in the Holy Land - will be accompanied on the trip by his wife Caroline.
Lambeth Palace said in a statement: "Archbishop Justin is making this trip early in his ministry because of the significance of the region, the importance of the relationships that his office has there and because he is keenly aware of the particular pressures on the region at the moment, not least the devastating conflict in Syria and its impact more widely."
In Jerusalem, he will visit the Western Wall, the Church of the Holy Sepulchre and the Temple Mount, and Israel's Holocaust memorial.