Afghan detainees: Court blocks transfers to Afghan prison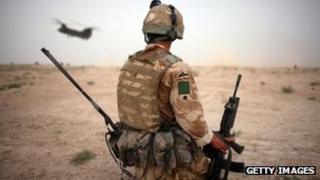 The High Court has blocked the transfer of Afghan detainees captured by British forces to the Afghan justice system.
The UK had wanted to restart the transfer of up to 90 suspected insurgents, who are being held at Camp Bastion without charge.
But lawyers acting for some of the men called for transfers to be halted, ahead of a legal challenge in July on the legality of their detainment.
Defence Secretary Philip Hammond said the ruling was "disappointing".
The transfer of detainees from the UK's main base in Afghanistan to Afghan authorities was banned in November because of fears they would be abused.
The Ministry of Defence (MoD) planned to restart the transfers from 26 June, saying it was satisfied it was now safe.
'Without delay'
But following that MoD decision, lawyers acting for some of the detainees sought an injunction from the High Court, which has been granted.
The lawyers are to challenge the legality of the detainment on behalf of some of the men at a six-day hearing in London, due to start on 19 July.
Lawyers for some of the men have said their clients should not be held without charge at Camp Bastion, but they have also raised concerns over the treatment they might receive in Afghan custody.
Last month Phil Shiner, of Public Interest Lawyers, said the UK could have trained Afghan authorities to ensure "proper standards" of detention but they had "chosen not to do so".
The UK wants to move the men to the Afghan National Detention Facility within Bagram airbase in Parwan province, about 700km (450 miles) from Camp Bastion. It is monitored by US forces and the MoD considers there is no risk of mistreatment.
Many of those being held are suspected of involvement in preparing, laying, or facilitating the use of improvised explosive devices against British forces, or have been picked up at the scenes of shootings of British soldiers.
MoD lawyers told the court that many of the detainees were "actively keen" to be transferred.
Mr Hammond said: "It is disappointing that the same human rights lawyers who only recently criticised the UK government over the length of time these suspected insurgents have been detained in Camp Bastion now want transfers to Afghan authorities to be prevented until further order by the court.
"All the detainees have confirmed to us they want to be transferred and we very much hope the court will now look at the issue again."
He said he wanted the detainees to be "transferred without further delay" and suggested the MoD could take further legal action.
Judge Sir John Thomas said it was for the MoD to come back before the court if it wished to seek a variation of the ban.