UK protests after 'shots fired at jet skier' off Gibraltar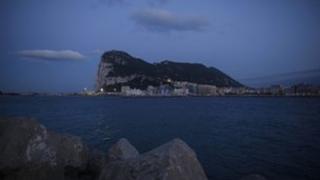 Britain has protested after shots were reportedly fired by a Spanish Guardia Civil vessel at a jet skier in British waters around Gibraltar.
Europe Minister David Lidington said a Spanish officer fired a weapon during an "illegal incursion" on Sunday.
He said he had sought assurances from Spain that there would be no repeat of the incident.
But a spokesman for Spain's Ministry of Foreign Affairs said no incident had taken place and no shot was fired.
Spain disputes UK sovereignty over Gibraltar, which has been a British colony since 1713.
It has been reported in the Daily Mail that the incident involved a chase by the Guardia Civil vessel which pursued a Gibraltarian jet ski into British Gibraltar territorial waters.
Rumours dismissed
Onlookers were said to have seen large rubber or plastic baton rounds being fired from the Guardia Civil and splashing into the water.
In a statement, Mr Lidington said: "I spoke today with Spanish minister for the European Union, Inigo Mendez de Vigo, in order to protest in the strongest terms following an incident on 23 June in British Gibraltar Territorial Waters (BGTW).
"During an illegal incursion by a Guardia Civil vessel, a Guardia Civil officer fired a weapon.
"I made clear that the discharge of a weapon in or near Gibraltar is completely unacceptable. I urged Senor Mendez de Vigo to investigate urgently and to take action to ensure that this will not happen again.
"I can also confirm that I have instructed the chargé d'affaires in Madrid to reiterate this protest in person to the Spanish Ministry of Foreign Affairs and to request a full explanation."
The spokesman at Spain's Ministry of Foreign Affairs told the BBC the Spanish government and the Spanish Civil Guard said that "no shot was fired".
The Spanish government said it was "disappointed" the British government had taken "widespread rumours as facts".
Asked whether there was an incident at all involving a jet-ski and the Spanish Civil Guard, the spokesman said "there was no incident".
In November, Spain and Britain summoned each other's ambassadors in a spat over a series of naval incidents around the small but strategically situated territory.