Doreen Lawrence to meet Theresa May amid 'smear' claims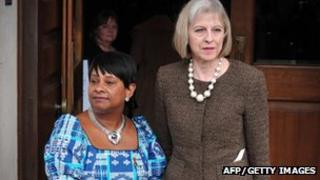 Home Secretary Theresa May is to meet the mother of Stephen Lawrence, amid claims police tried to "smear" the family in the wake of his 1993 murder.
It is thought Mrs May will seek to reassure Doreen Lawrence that the two existing inquiries examining the claims will be objective and thorough.
Human rights lawyer Michael Mansfield will also be at the Thursday meeting, to request a judge-led inquiry.
Scotland Yard is also looking into claims Stephen's friend was bugged.
'Shocked and angry'
Stephen Lawrence, who was black, was 18 when he was killed in a racist attack as he waited for a bus in Eltham, south London, in April 1993.
It took more than 18 years before Gary Dobson and David Norris were found guilty of his murder by an Old Bailey jury, after a review of the forensic evidence, despite them having been identified as suspects at the time.
A public inquiry in 1998 accused the Metropolitan Police of institutional racism and found failings in how they had investigated the murder.
Mrs Lawrence said the allegations that an undercover police officer had been ordered to infiltrate the family's campaign had topped everything she had heard since her son's murder, and she was shocked and angry.
Mrs May announced on Monday that the claims would be investigated by two existing inquiries, those of:
Barrister Mark Ellison QC, who is examining police corruption during the original investigation into the killing
Operation Herne, an investigation into undercover policing at the Met, led by the chief constable of Derbyshire Police, Mick Creedon, and partly overseen by the police watchdog
The private meeting between Mrs Lawrence and the home secretary is understood to have been suggested by Mrs May, who has met Stephen's mother several times before.
Mr Mansfield, who has previously represented the Lawrence family, told BBC Radio 5 live he would attend the meeting, and said that there needed to be a public inquiry into the police's "institutionalised deceit".
Stephen's father Neville has previously said "nothing short of a judge-led public inquiry will suffice".
The meeting comes following fresh claims on Tuesday that Duwayne Brooks, who was with Stephen at the time of the murder, had been targeted by police.
The BBC learned that the Met secretly recorded its officers' meetings with Mr Brooks, his lawyer, and a detective at the solicitor's office.
They were unaware the meetings were being recorded.
Scotland Yard's directorate of professional standards is looking into the claims.
'Domestic extremists'
Meanwhile, the newspaper that broke the story of the alleged smear campaign and subsequent allegations that undercover officers from Scotland Yard had spied on critics of police corruption, has made fresh claims.
The Guardian reported on Wednesday that a national police unit that uses undercover officers to spy on political groups is currently monitoring thousands of people it has deemed "domestic extremists".
A total of 8,931 individuals "have their own record" on a database kept by the National Domestic Extremism Unit, for which the Met Police is the lead force, it reported.
The details were disclosed to the newspaper following a freedom of information request.