Stephen Lawrence claims: High Court 'should approve undercover operations'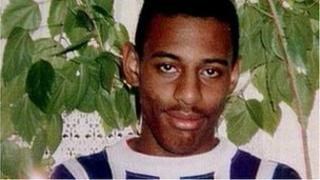 Revelations about Stephen Lawrence's family show police forces should be required to get High Court approval for undercover operations, campaigners say.
Liberty, backed by the murdered teenager's mother Doreen, has drafted a "Lawrence amendment", which it says could be tabled as an amendment to a crime bill going through the Commons.
Police are currently allowed to launch operations without external approval.
An ex-officer has claimed he was asked to find "dirt" on the Lawrence family.
Stephen, who was black, was 18 when he was stabbed to death in an unprovoked attack by a gang of white youths as he waited at a bus stop in south-east London in April 1993.
Hunt for 'disinformation'
A number of suspects were identified but it took more than 18 years to bring his killers to justice. An inquiry accused the police of institutional racism and found failings in how they had investigated the murder.
Former undercover police officer Peter Francis told the Guardian and Channel 4's Dispatches programme that after Stephen was killed he posed as an anti-racism campaigner in a hunt for "disinformation".
Working as part of the Metropolitan Police's Special Demonstration Squad (SDS), he said he was pressured to find "any intelligence that could have smeared the campaign" - including whether any of the family were political activists, involved in demonstrations or drug dealers.
The Regulation of Investigatory Powers Act currently allows forces to approve operations without external approval.
Civil rights group Liberty says its proposed reform - which would require police forces to satisfy a High Court judge that undercover operations would be necessary and proportionate - could be tabled as an amendment to the the Anti-social Behaviour, Crime and Policing Bill currently going through Parliament.
The amendment would have to be tabled by one of the MPs on the bill's committee.
Liberty director Shami Chakrabarti said: "The police should never have been allowed to put imposters in the Lawrence home and these abuses won't stop until they are subject to proper oversight."
She said Stephen's mother, Doreen, was "urging MPs on the bill committee to table and support this change for the better".
The government has announced plans for the Office of Surveillance Commissioners to be informed at the start of covert deployments and to approve those lasting more than a year.
Ms Chakrabarti said that fell short of "enhanced judicial oversight".
Mrs May announced on Monday that the claims would be investigated by two existing inquiries, those of:
Barrister Mark Ellison QC, who is examining police corruption during the original investigation into the killing
Operation Herne, an investigation into undercover policing at the Met, led by the chief constable of Derbyshire Police, Mick Creedon, and partly overseen by the police watchdog
Earlier it was announced that Home Secretary Theresa May is to meet Doreen Lawrence.
At the private meeting on Thursday - understood to have been suggested by Mrs May - it is thought the home secretary will seek to reassure Mrs Lawrence that these two inquiries will be objective and thorough.
During prime minister's questions on Wednesday, David Cameron said "nothing is off the table. If more needs to be done, if further investigations or inquiries need to be held, they will be held."
"This is not an acceptable situation. We must get to the bottom of it," he added.
The prime minister was responding to a question from senior Labour MP David Winnick, who asked: "Is the Prime Minister aware how shocking it was that the police apparently spent more time investigating the parents and friends of Stephen Lawrence than the racist murder itself which took place in 1993?
"Is the Home Secretary, when she meets Mrs Lawrence, going to apologise for what occurred and is it really right for the police to investigate itself?"
Human rights lawyer Michael Mansfield, who has previously represented the Lawrence family, told BBC Radio 5 live he would also be at the meeting with Mrs Lawrence and the home secretary and said he would be calling for a separate public inquiry into the police's "institutionalised deceit".
Stephen's father Neville has previously said "nothing short of a judge-led public inquiry will suffice".
The meeting comes following fresh claims on Tuesday that Duwayne Brooks, who was with Stephen at the time of the murder, had been targeted by police.
The BBC learned that the Met secretly recorded its officers' meetings with Mr Brooks, his lawyer, and a detective at the solicitor's office.
Scotland Yard's directorate of professional standards is looking into the claims.